elab49

Posts: 54399
Joined: 1/10/2005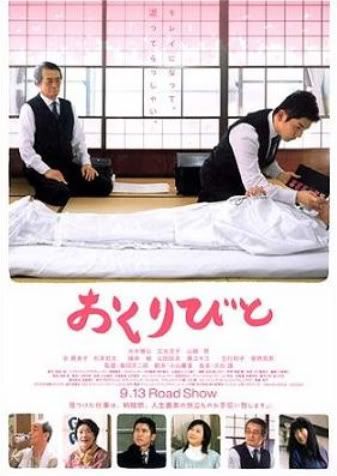 Departures (Takita, 2008)

I went into this not knowing really what to expect, and came out absolutely blown away. I'm glad everyone else in the cinema stayed behind, because I needed a bit of time to gather myself. Departures, the 2009 Foreign Language Oscar winner, is a tour-de-force of subtlety, of grace, of ritual, music, passion, a celebration of life and an acceptance of death, of family, friends. It's a range that one might baulk at trying to express in film, but which this does effortlessly, and with such beauty. And humour.

In brief then, this film follows Daigo Kobayashi (unrelated to the test...), a cellist who finds himself without an orchestra, and in search of a job. Answering an advert for what he thinks is a travel agency, he starts working for a company that deals with the ritual "encoffinment" of bodies. While those around him, and initially he himself, find the idea repulsive, grotesque, and unclean, he begins to find it peaceful, and affecting in a way he never expected.

Intertwined with this burgeoning career is an exploration of Daigo's early relationship with his father, the subsequent unexplained paternal absence, and a heartbreaking subplot involving stones which is less bizarre than that sounds. While others may accuse the story of being too obviously signposted, I in my never-seeing-plot-twists frame of mind just enjoyed it as it happened. Special mention must go to Ryoko Hirosue, who played Daigo's wife Mika with such intense subtlety, that huge swathes of emotion were felt from the merest narrowing of her glistening eyes, or the slightest twitch of her lips.

So, what we are left with is a paeon to life and love. The poignancy in the film is tangible, and the very visible manner in which death is affirmed is so terribly un-British there can be no equivalent here. The film is quintessentially Japanese, and yet never alienates - its tenderness transcends race and nationality and speaks to one's heart.
HomerSimpson_Esq

"Departures" tells the story of Daigo Kobayashi (Masahiro Motoki), a musician in Tokyo who has finally managed to land himself an orchestra job. It's just his luck, though, that said orchestra goes bust soon after, and he's left with an expensive cello that he hasn't paid for, no job, and a limited amount of talent. So, he picks up sticks and goes home, and – after a hilarious misunderstanding, as the Conchords would say – soon ends up as the assistant of a casketing business. There are a smattering of negatives within "Departures"; the over-simplifying voiceover, the supporting cast (most notably the second rate funeral attendees, who ham it up to the best of their ability), and the initial funeral - involving the old, family-less woman - which is almost played for jokes. But they aren't worth dwelling upon, because "Departures" is a film that defies academic criticism. It's a film about a son needing a father, finding a replacement, but still yearning for the socially enforced bond between a father and a son. There's a major hole in the character, which can only be filled by the presence of his dad, but the circumstance of their parting leaves things irredeemable. Over the course of the two hour runtime, we see Daigo grow so much as a person, but there is always a cap there, always a limit to how fulfilled he can be. The theme of family, particularly paternal bonds, is one that runs deep through the film's core. I saw this film with my own father, and not only is it a reminder that such an unspoken bond is important in the functioning of any life, but also the key emotional drive of pretty much every character within the film. The emotion stems from Masahiro Motoki's performance, which is sublime. After a few jitters at the start (his reaction to the band's dissolving is ridiculously overplayed), he settles into the role for the long haul, delivering an incredibly assured and confident performance as a man riddled by repressed regret and accusations of societal subversion. He slowly loses everything – his old job, his shiny new cello, his wife – before gaining so much more, and the way that Takata builds and builds and builds until the final moment, which is so clichéd yet so brilliant, where all of this frustration is let out in a fit of emotional jubilation. I don't think it's possible to stray into hyperbole with this ending; it's so simple yet so powerful, and the whole film feels like it's been leading up to this moment of release, where all apprehensions are finally washed away. It is a finale that will leave you moved, and if it doesn't you don't have a heart or a brain, and no amount of yellow brick roads will save you.
Piles

Daigo's orchestra folds. Selling his cello he heads back to his hometown and inadvertently ends up working for a company that prepare bodies to be casketed.

I was somewhat surprised by this. My fault – I'd expected something more serene, more meditative (something like Les Maisons en Petits Cubes, in fact). The first scene – which moves from a grieving family to what is basically a dick joke – put paid to that. Some of the quirks on the humour side reminded me a bit of Imamura's sense of humour. Some nice single shots (the cream over the nose as he tries to breath, the inability to see his father's face) although it doesn't go for the now rather clichéd Oscar baiting type landscape photography – although there is some beautiful countryside around the town the colours are often quite flat and in the mist and snow almost a matt palate seems to be being used. Very great care has been taken in being respectful to the ceremonies that are being performed– it was based on a the biography of a 'Buddhist Mortician' and apparently took years to put together and complete, including the lead learning how to play cello.

The film deals with many themes. Parents and children – his father left, he wasn't there when his mother died. This links into his growing relationship with his father-figure boss (the kidnapper from High and Low! – a nice and understated performance) and the link to his past is provided by the lady who runs the local baths. Death and transition, moving and settling into his new life. The ceremonies themselves were generally very affecting – the conveyance of grief is well-done with some excellent individual performances. It isn't perfect though - he seems curiously unbothered by his wife's departure and does nothing to hasten her return, and no real reason is given as to why.

Some parts I didn't quite get – people repeatedly act as if there is something wrong with the job – the word 'unclean' is used at one point. But while appreciating there is a taboo around death in Japan we were previously told that before specialists took it over this was what the family did for their departed loved ones – and there really wasn't anything anyone outside that culture could take to understand what happened to make it a problem.

I really liked the film and that it was very well done but I must confess my bafflement at its Oscar win. But perhaps, this year, the voters wanted something just a little gentler.
Elab49





Infernal Affairs II (Lau/Mak, 2003)

My 100th film of the year was a good 'un - IA2, a prequel to the excellent Infernal Affairs. Mrs 123 liked the first one enough to say she wouldn't mind watching the second and third films, but something like 3 years later and we still haven't got round to doing it, so I finally took the leap on my Jonesome.

The film has a strong plot and nicely realistic feel, and once again features great performances from Eric Tsang and Anthony Wong. It doesn't quite reach the heights of the first one, for 3 reasons - 1) Shawn Yue is no Tony Leung, and Edison Chen is no Andy Lau, though at least there was some vague lookalikey quality (especially as the film progressed and Chen's hair got spikier and Yue grew a gitty little 'tache). Both put in ok performances, and despite Chen being fairly average (or fairly mute) in most things I've seen him in, there is something about him I like. 2) This being a prequel, the tension in certain scenes was lost because of what we know from the original IA. We know, for example, that a certain character must survive, as we saw his older self in the previous film. 3) It felt slightly overlong. At a little over an hour in, the film came to a point where you thought, "aye aye, the end is nigh!", but in fact it was still another hour away. There's not even much I'd suggest should be trimmed, and certainly much of the meatiest acting goes on after that point, so I might be asking for the moon on a stick there. Maybe on re-watch the length won't be an issue.

I've heard the third film is a bit of a step down - is that so? A quick scan of the cast list tells me Leung and Lau are back, and Yue and Chen are also in it, so it clearly has some action in two different time periods. That could be it's downfall, I guess, though depending how they've done it, it could be a positive. Will try to watch it soon....
Gram123




_____________________________

Lips Together and Blow - blogtasticness and Glasgow Film Festival GFF13!


quote:

ORIGINAL: Deviation] LIKE AMERICA'S SWEETHEARTS TOO. IT MADE ME LAUGH A LOT AND THOUGHT IT WAS WITTY. ALSO I FEEL SLOWLY DYING INSIDE. I KEEP AGREEING WITH ELAB.
Annual Poll 2013 - All Lists Welcome