elab49

Posts: 54399
Joined: 1/10/2005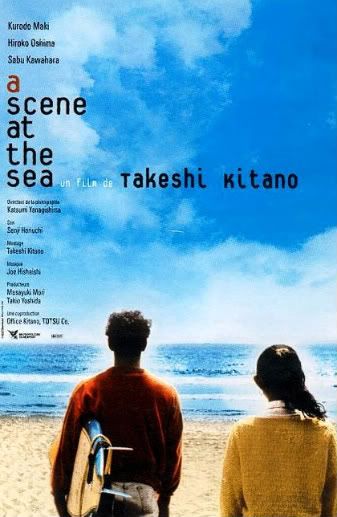 A Scene at the Sea (Kitano, 1991)
The 3rd film directed by Kitano, and the first to come from his own production company.
This film sits in marked contrast to his previous two - no harsh violence, no Kitano (onscreen), and not a yakuza in sight. The film focuses on Shigeru, a young deaf-mute who with the monotonous job of bin man. Upon finding a broken surf board, he repairs it as best he can and takes up a daily surfing routine. Clearly unskilled at the offset, he gradually improves, and the mocking from the other surfers on the beach is soon replaced by admiration. Shigeru's girlfriend, Takako, loyally follows him, folds his clothes as he surfs, and accompanies him to competitions.

The plot is rather light on drama, often with not a huge amount happening, and with both leads being mute, very little being said. In fact, it plays out almost as wordlessly as Kitano's later film, Dolls.
Problems come when Shigeru's pursuit of his new hobby starts to become detrimental to his relationship with Takako, and to his job. However, these issues never really threaten to derail the film's gentle pace and never seem insurmountable. Even a climactic event at the end of the film is dealt with in a serenely - to the extent, even, that it catches you off guard, and initially you're not quite certain what has happened.

The visuals (particularly Kitano indulging his well-documented love of the sea), adds to the tranquility, along with the pleasant Joe Hisaishi score - another contrast to the almost entirely music-less Boiling Point. Considering the calmness, the lack of action, suspense, conflict and indeed, dialogue, it flows along quite nicely, and never gets dull. At the same, it doesn't have as strong a story as Kitano's other "quieter" films like Dolls or Kikujiro.
Gram123

Takaeshi Kitano's 3rd feature film, and possibly his finest work as a director.

It's certainly a strange premise - Deaf-mute garbage collector Shigeru (Claude Maki, who crops up again later in Kitano's career in Brother) finds a broken surfboard on his rounds and an obsession with surfing begins. He is joined by his doting girlfriend Takako (Hiroko Oshima, who deservedly won two 'Best Newcomer' gongs for her part here, and has seemingly done nothing since) who follows him everywhere, folding his clothes on the beach as he pursues his dream.

And in all honesty, that's pretty much it. Sounds a bit dull, doesn't it? Especially after Kitano's previous films (Violent Cop and Boiling Point, most notable for their excessive violence), the notion of a romantic surfing movie doesn't really get the juices flowing...

...but to miss this film is to miss Kitano at his most poignant and wonderful. Everything that makes a Kitano film a treat to watch - great framing of very, very long shots, impeccable timing (both comedic and dramatic), images of consequence without viewing the action, very natural sets and performances and a heart of incredible warmth. Oh, and a cameo from Susumu Terajima starting a fight for no apparent reason, doing that manic limb-flailing thing that only he can do so well.

As you might imagine from a film with two deaf leads (his is set up and explained maybe a couple of times too often right at the start, hers is merely implied a couple of times), this is pretty much a silent movie. Kitano seems a little daunted by this task at first with his slightly clumsy use of a couple of amiable (almost Manzai) idiots as painfully obvious exposition, but he soon warms to the job by an excellent use of background noise which is either exaggerated or completely removed to great effect, and also Joe Hisaishi's excellent score which is used very sparingly. And once the story (such as it is) and the characters are set up very quickly, then the rest of the film is allowed to flow freely.
And it's certainly a film that creeps up on you. It's impossible to not be drawn into Shigeru and Takako's relationship, and when this relationship has its inevitable 'blip' (thanks to a misunderstood Tangerine Incident, which soon becomes a running joke), it's genuinely moving and threatens to derail the film's overall niceness, so Kitano ultimately lightens the mood of the scene with a couple of perfectly-timed gags (one sound joke, and a bit of genius slapstick that goes by almost unnoticed). And then we're off again, with an increasing retinue of people who are touched either by Shigeru's improving surfing or by his and Takako's impossibly devoted bond. And by the end, when the film's title eventually appears (literally translated as "That Summer, the Calmest Ocean" - as with his first two films, the translated title bears little relation to the original), you will find that you have been crying your eyes out for the previous ten minutes.

An incredibly touching film, painstakingly put together. Films very rarely get as good as this.
Foz

SPOILERS AHEAD

Synopsis: A deaf and dumb teenager learns to surf.

Best known in the West for his revisionist Yakuza films, in Japan Takeshi Kitano rose to fame as a comedian and there were initially worries about 'Beat' Takeshi being taken seriously as a dramatic actor. That's why A Scene At The Sea must have been a bewildering film in both Asia and the West. It was only Kitano's third film as a director, and his first two offerings had been Yakuza films, so a film about a deaf and dumb teenager learning to surf must have been an incredible surprise to audiences.

Shigeru is a deaf and dumb teenager who works as a dustman. One day on his rounds he finds a discarded surfboard and suddenly finds himself drawn to the ocean. Accompanied by his devoted girlfriend, Takako, Shigeru struggles for respect at first and is mocked by the local surfers, gradually winning their respect through his dedication to the sport. It sounds like a million teen movies, doesn't it? But there's so much more to it than that rather slight plot description can tell you, A Scene at the Sea has as much depth and hidden surprises as the ocean that Shigeru loves so much.


Kitano's films, even at their most violent have a still and meditative quality, none more so than A Scene At The Sea. The literal translation of the Japanese title is That Summer, A Most Quiet Ocean, and that title is infinitely more fitting to this beautiful little film. It gives you this memory of an idyllic summer without ever resorting to cheap sentiment. Kitano provides us with the ocean and the beach and the characters make themselves known to us through their actions, both in the ocean and out of it.

In this deeply lyrical film, Kitano strips away the storytelling and the dialogue to create a minimalistic masterpiece. The film is virtually wordless, both Shigeru and Takako are deaf mutes and Kitano puts us firmly into his world, letting us experience some of Shigeru's heartbreak when he misses his first contest when he's unable to hear the announcement for his category. What little dialogue there is almost takes you out of the film, nearly breaking the spell that Kitano has placed us under.

A Scene at the Sea is probably the most delicate and romantic of Kitano's films, the relationship between Shigeru and Takako carries the emotional weight of the film, and the unconditional love they show each other gives a powerful emotional core to this funny, moving and honest film.
Rawlinson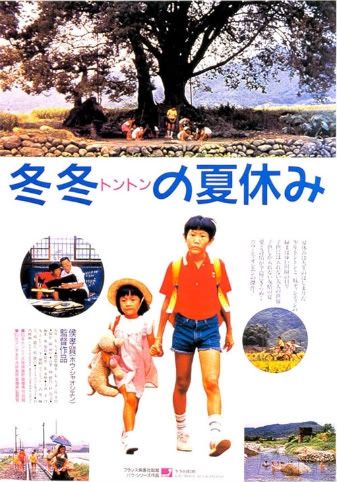 A Summer at Grandpa's (Hou, 1986)

Childhood in cinema is usually something that's handled really badly, the children are shown as precocious, just there to ask the adult the embarrassing questions or prompt them with some Rain Man-esque wisdom. I think what makes a cinematic depiction of childhood work is the feeling that you could have experienced it yourself. You don't have to have actually have been through it, it just needs to capture some of those emotions. Which is why Stand by Me is a great depiction of childhood to me, even though I didn't go on an adventure with my friends to see a dead body. I still felt a lot of what those characters feel and I recognise aspects of myself and my friends in them. Where the Wild Things Are is my film of the year for exactly the same reason, it captured a feeling I understood even if it didn't replicate the reality. Whereas something like Home Alone is a terrible depiction of childhood because it captured none of the things I felt as a child, even though I did get left home alone over Christmas and had to fight off criminals while my family flew to Paris. A Summer at Grandpa's captures the right feeling, even though the situation is a world away from my childhood.

When their mother is taken into hospital, eleven-year-old Tung-Tung and his four year old sister, Ting-Ting, are sent to spend the summer in the country with their uncle and their grandfather. The stay proves more dramatic than may have been expected, with the country providing just as many dangers as the city. The uncle proves himself irresponsible from the start, he leaves them on the train and is more interested in sex than anything else, some of his friends are wanted for a brutal robbery, a woman miscarries her child, and the children are forced into confrontations with the adult world. Despite that, the film never tries for forced melodrama, with the situations still feeling everyday and realistic. The children try to insulate themselves from the outside world but they are forced to face adult events as that world encroaches on their life over the summer. Despite the mature themes of the film (and there are plenty of adult moments) it's the depiction of the children that feels the strongest. The children are often shown as not understanding the adults and the letters they write home express a frustration that the adults aren't making enough sense. The film is firmly on the side of the children, they are our identification figures and the film flows to their moods. Despite the fact that Hou makes his characters face some harsh truths, the film is warm. It exudes the feel of summer and it manages to capture a gently nostalgic feeling aided by the naturalistic performances of the cast.

Immaturity is a running theme. The film opens with a seemingly out of place sequence of a young girl giving a valedictorian speech, but it's thematically linked. The idea of the girl being reluctant to leave her childhood behind is reflected in Ting-Ting and Tung-Tung as their innocence is lost when real life takes over. The children are unable to articulate their emotions and this causes them to lash out. But their uncle's rash behaviour, and even some of their grandfather's actions, are shown to be just as childish as the children's. Hou is showing us how those childlike moments exist in everyone, even when we've supposedly matured. I think it's the way that Hou captures these small nuances in behaviour that prevents the film from falling into easy sentimentality. Instead of a simplistic coming-of-age story we're given a meditation on what it means to be a child, what it means to be an adult, and what gets lost in-between.
Rawlinson.




_____________________________

Lips Together and Blow - blogtasticness and Glasgow Film Festival GFF13!


quote:

ORIGINAL: Deviation] LIKE AMERICA'S SWEETHEARTS TOO. IT MADE ME LAUGH A LOT AND THOUGHT IT WAS WITTY. ALSO I FEEL SLOWLY DYING INSIDE. I KEEP AGREEING WITH ELAB.
Annual Poll 2013 - All Lists Welcome