elab49

Posts: 54399
Joined: 1/10/2005



Eat Drink Man Woman (Lee, 1994)

Chu, a widower with 3 daughters, sublimates his love for them in amazingly complicated cuisine served up every Sunday for dinner. Jia-Jen is almost as repressed – a schoolteacher, she hasn't moved on from her college boyfriend many years before. Jia-Chien is an impressive businesswoman and the one most like her father so has the most difficult relationship, particularly as she attempts to move out and move on. Finally the youngest, Jia-Ning who, in contrast to her father, works in fast food, while studying.

Structured round dinners and family announcements each family member approaches a change in their lives. It's a sweet, mature and sometimes surprising story well-performed all round. You get a genuine feel for the working environments – the labyrinthine kitchen and the way the office works – and a believable set of sibling interactions. And the food preparation is genuinely amazing.
Elab49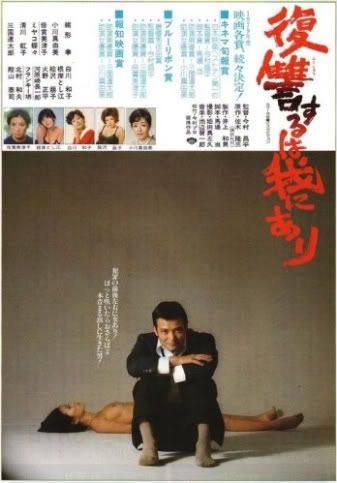 Vengeance is Mine (Imamura, 1979)

It is quite hard to reconcile the the types of film Imamura made. HIs work incorporated the absurd with a sense of humour – but where the earlier works were harsh and cyncial the later ones – Kanzo Sensei, Warm Water Under a Red Bridge, were mellower, more quirky,while still asking questions about Japan and the Japanese.

Based on the 78 day manhunt for a real-life serial killer (here renamed and played with some verve by the great Ken Ogata), we don't get an easy explanation for why Iwao does what he does. Although it does appear to provide hints – he comes from a christian family and witnesses the humiliation of his father (by a representative of the Emperor to an extent), and we get snapshots of a troubled and troublesome boy who is not satisfied with his lot in life and drifts into petty theft and fraud. And then, with some rather mad outbursts, into murder – but it isn't his main aim, more a by-product of his drifting and desire to get what he wants. The killings in this film are grotesque – visceral, difficult. Not one stab and away, but difficult, people fighting for their lives. Nothing is glib and easy or sensationalised but nasty and brutal. Similarly with his crimes – Iwao is also a conman and has done time for fraud and we follow through one particularly clever one where he appropriates money brought for bail but, again, this is not presented as some thrilling escapade but a record of events that aren't being glamorised.

This isn't a straight narrative – certainly chronologically we're moving quickly between shots and scenes quite a lot in the first half of the film before we reach the Asano Inn, and a little less so afterwards, with longer scenes. With trains taking him all over Japan the arrival at the inn is a long sequence of shots giving a sense of immediacy that Donald Ritchie refers to as a predecessor to the kind of shot to come in The Player and Goodfellas, as Iwao moves through the station to the taxi, the inn and to his room. . It is clearer near the end with a couple of very unusual scenes – one where he heads off upstairs to kill someone but, downstairs, his mother comes down the hall and heads into one of the rooms where the rest of his family are – a different house and a different town. And, of course, the final absurd scene (final scenes are often odd) when his father and wife try to get rid of his remains but the ground rejects his bones after an odd and clearly important shot as their cable car ascends above the religeuse in the other going down.

I've always felt that part of this was a comment on old and new Japan – particularly in the last discussion with his father where it seems more like a discussion between the old world and the new, with the latter not being quite able to destroy the former. Where his father kowtowed and accepted the old order – of the Emperor and religion, denying himself his daughter-in-law, this new blood has no such impulse issues and takes what he wants no matter how destructive, most clearly seen in the final killings on screen. But his father has left that order now – life has changed. It's not clearcut, but Imamura always seems to be looking at how the Japanese actually live, dealing with nature clashing with civilisation or reality and fiction (playing with the documentary form in A Man Vanishes and the role of the filmmaker). Another key character is the innkeepers mother – a more interesting symbol of the older society, a murderess herself who to an extent understands Iwao's intent and forestalls it o more than one occasion. Perhaps a sign that things haven't changed as much as might be thought. But that last conversation always interested me and the final accusation that Iwao couldn't destroy his father as he only killed things he didn't hate.
Elab49.


Iwao Enokizu (Ken Ogata) commits violent, extreme, and insane murders and goes on the run. The police end up chasing him all over Japan, but he manages to elude them for seventy eight days, in the process meeting a woman who owns a brothel and falling in love with her. "Vengeance is Mine" is the first Shohei Imamura I've seen, and I was quite impressed by its visceral nature, its extreme, ruthless, and realistic portrayal of violence, and its superb handling of both challenging subject matter and a challenging un-chronological narrative. I think there are flaws – most notably that it felt about a quarter of an hour overlong, which is quite shocking when I watched it in-between an Ozu film and "Jeanne Dielman" – but most of them are easy to overlook, especially when you consider the scale and the episodic nature of such a story. It could have been messy, it could have jarred, but, for the most part (and there is the occasional blip), it really works, and it feels like a fluent yet visceral experience. First and foremost, it's a character study, separating itself from the majority of them by attempting to delve into the mind of a murder who is, almost by his own will, uncontrollable, volatile, and perhaps un-understandable. Imamura attempts to look at why this man is doing these things, but his eventual conclusion seems to be that you can't always understand such events and crimes, and you can't always investigate them methodically. Mainly, though, it's a thriller, and a very good one at that, with a superb central performance from Ken Ogata, who presents this volatile and unpredictable murderer as cagey, paranoid, and tragic in his inability to understand the world. I think, though, that my favourite thing about the film was the subplot between Enokizu's wife and his father, who hide a secret love – and lust - from the world, constantly trapped by this volatile, hateful figure that plagues both of their lives. Their scenes together are often tender, as suppressed emotion pours out of both of them, but offset by the violent presence that bombards in and out of the film, never allowing them to safely relish their love. It really is a remarkable film, even if ever so slightly flawed.
Piles





_____________________________

Lips Together and Blow - blogtasticness and Glasgow Film Festival GFF13!


quote:

ORIGINAL: Deviation] LIKE AMERICA'S SWEETHEARTS TOO. IT MADE ME LAUGH A LOT AND THOUGHT IT WAS WITTY. ALSO I FEEL SLOWLY DYING INSIDE. I KEEP AGREEING WITH ELAB.
Annual Poll 2013 - All Lists Welcome