196.
Inside
(2007; Alexandre Bustillo, Julien Maury)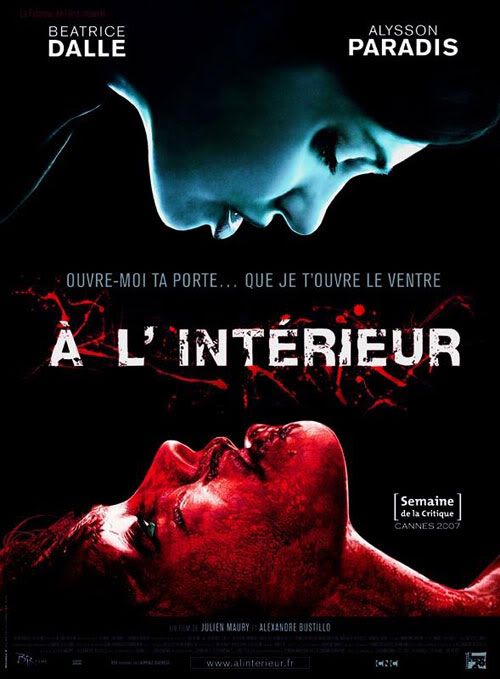 Sarah is all alone. Still haunted by the death of her husband in a car crash in which she survived and due to give birth at any time, Sarah sits in the safe comfort of her home just waiting for the day when she can hold her baby. The fire burns brightly in the background, its cold outside and Christmas is just around the corner, she feels safe and warm and slowly she drifts off to sleep. The clock strikes midnight and she awakes from the sound of knocking, she gets up from her warm chair and finds a woman standing outside. At first she explains that her car has broken down and she needs to use a phone, Sarah is bright enough not to let her into her house, but this woman becomes angry, she knows that Sarah's husband is dead, she knows that she is alone, and most importantly she knows that Sarah is pregnant. What this mystery woman wants is something Inside Sarah, and nothing will stop her until she gets it.
Over recent years the French have pulled major coups in the horror genre and while films like Ills and Switchblade Romance all deserve to be labelled as classics in their own right, there is something of sublime simplicity in this concept. The ingenious of this film is that Sarah does everything right after the mad woman's knock. She phones the police, they check the house and tell her that they call back in an hour. Feeling safe but a bit wary, Sarah sits back in her chair but while she relaxes, unknown to her but to the viewer watching, that this woman is standing on her staircase in the shadows, inside her house and one step away from getting her goal.
83 minutes of unbearable tension and carnage, Inside does not shy away from its mission to scare as this strange visitor glides from one room to the next, offering all those who get in her way and while many may find it hard to watch, especially the brutal last ten minutes, Inside is another perfect example of an horror that carries such a simple concept can bring more terror than any viewer could imagine. Why complicate things when all you need is a crazed woman holding a pair of knitting scissors, for reasons is something that will live with you forever....
- HughesRoss
196.
Interview With The Vampire
(1994; Neil Jordan)
The structure is the tale told by Louis (Brad Pitt) to journalist Daniel Malloy (Christian Slater) in modern day. Louis's tale starts 2 centuries before when he meets Lestat after a family tragedy and is eventually turned by him to a life he abhors. He tells of the difficulties in fitting in with vampire life and the obscenity of turning children into immortals, trapped in the body of a child no matter the maturity of the mind.
Based on Anne Rice's massive bestseller, Interview with a Vampire introduced the Vampire Lestat to the big screen, played by a blonde Tom Cruise. For him it provided something different from the normal heroic/action type fare he'd been starring in almost since his first couple of films. It also gave a career start to future Mary Jane, Kirsten Dunst.
Jordan has made a relatively faithful adaptation, following Louis's journey from Louisiana to France and back to the US but does seem to twist the film about to avoid any suggestion of homoerotica, even while keeping to the narrative. It is better than Queen of the Damned, the sequel of sorts.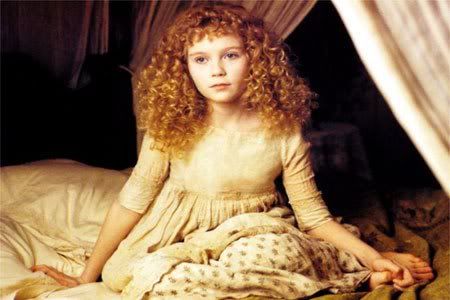 - Elab 49
I would love to go back in time and watch this for the first time all over again, it amazed me on first watch and still dazzles now! I'll never forget all the talk of this brilliant new vampire film starring Tom Cruise and Brad Pitt, it arrived with 5 star reviews and came out to rent in August of 95 (i think) and this was a great month for film, as it had the Shawshank Redemption, Timecop and Just Cause, to name a few. Interview With the Vampire is a stunning piece of gothic horror, lead along by a strong, powerful role from Cruise, who is excellently contrasted by Pitt's sad tale and emotional wreck of a man. Cruise plays Lestat, a very old vampire who prowls the streets enjoying himself, maybe a bit too much, by spending time in bars picking up good looking women and drinking their blood. He soon meets Louis, a down on his luck drunk who just wants to die, so Lestat frees him and makes him into a vampire. Louis takes a long long time to adjust, and I must admit, his sadness and refusal to harm others does get a tad irritating, but it makes for one hell of a good story.
Cruise simply shines as Lestat, with Cruise clearly loving every minute, and I just wish they would hurry up and make the 3rd part of the trilogy based on his tale, and redeem the awful Queen of the Damned. Anyway, Interview is woven together by Louis telling his tale, many many years later, to a reporter, Christian Slater, who, as ever is excellent and full of the type of enthusiasm only Slater can do. As our 2 vampires start to settle into vampire life, along comes Kirsten Dunst, playing a very young girl who is accidentally made into a vampire, and she unbalances the whole friendship between Lestat and Louis, and enjoys her new found vampirism a bit too much!
The setting for this film is gorgeous, ancient looking, with a real emphasis of everyone's favourite gothic look, the music is rich and powerful and the whole thing just oozes that classical feel that really draws you in. It's a beautiful, poetic film with plenty of blood and sex. It doesn't really have many scares; it's just a gorgeous, very passionate vampire tale. It both glamorises and shows the bad side of being a vampire. It has some excellent cameo's, Stephen Rea's jittery French vampire is probably one of the scariest in the film, and Antonia Banderas adds a solid, overwhelming performance as the other French vampire who put on shows for the public where they kill victims live on stage, however, the audience thinks it's all an act. The impressive look of one of these shows is quite brilliant. Interview has all you could ever want from a vampire film, and it will stand the test of time as one of the all time greats. I can't believe anyone on here hasn't seen it, but if you haven't, come on, sort it out!!!
- dj vivace
196.
A Ghost Story for Christmas: Lost Hearts
(1973; Lawrence Gordon Clark)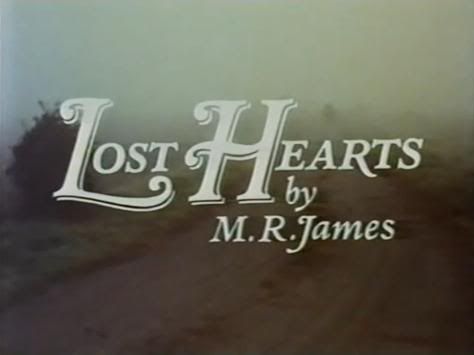 The third entry in the BBC's ghost story for Christmas adaptation was again taken from the stories of M.R. James. This seems to have been one of the most nightmare inducing for people who caught them at the time. Young Stephen (Simon Gipps-Kent) is an orphan who goes to join his mysterious, older cousin, Mr. Abney (Joseph O'Conor) at his estate. Abney seems kind, but why is he so obsessed with Stephen's age, what is his fascination with ancient rites, and what happened to the two children who stayed at the house and disappeared some years earlier? Soon Stephen is hearing mysterious noises and seeing ghostly apparitions, but is he simply a young boy with an over-active imagination, or is something sinister going on in the house? Like all the Ghost Stories for Christmas entries, there's a wonderful ambience to the film and the appearance of the children still remains shocking nearly 40 years later. A hurdy-gurdy has never sounded has frightening as it does here. Many read this as an allegory for paedophilia - absolute nonsense and just representative of a modern fear, there's absolutely nothing sexual in this tale.
- Rawlinson
196.
Wes Craven's New Nightmare
(1994; Wes Craven)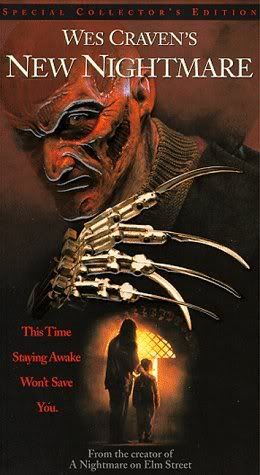 Freddy had run to a halt. No longer scary, no more a threat, the character had become a self parody, from each sequel that arrived the more the boogie-man became weaker. It wasn't any of the Elm St kids who killed him off, it was the weak scripts and the decline in film quality that made the unstoppable more or less stop.
There was nowhere else for Freddy to go, the horror re-make was nowhere near in sight in 1994, not like these days when an original can be re-made in no or less two years after its release. No! Fans had to face it...after the Final Nightmare, it was no more....some were glad...some were unhappy...but there was nowhere back for their favourite villain......
Wes Craven had other ideas! The creator of the entire franchise had a plot in his head that he suggested for pt 3 but it was rejected in favour for Dream Warriors and thank our lucky stars, as it never would have worked back then.
The idea that a real Freddy would come into the real world. Not set in Springwood, but in Hollywood itself and attacking the very people from within the films. Those people included Heather Langenkamp who played the original heroine Nancy and when this casting was announced the fan boys went crazy, honestly. If the Internet was as big then as it was today then it would have caused a meltdown. Already happy that they legend Wes was coming back as writer and director, news that his leading lady had signed up as well made headlines in horror circles. It was a huge shock as plot was such a secrecy, many questions started to arise more importantly, how can Nancy be back from the dead? and why was Wes even bothering coming back to a franchise that had sunk and really did not need another sequel?
Those questions were answered on Oct 14th 1994 and fans were shocked at what they were given. Again unlike these days, films could be made without any knowledge given out. I mean these days any film has so much publicity that by the time you get to watch it, many times you know the ins and outs thanks to the many magazines and Internet Forums who talk and give away sometimes too much information. All we had in 1994 was Empire and Barry Norman on the BBC, so getting any thing spoilt was virtually impossible.
New Nightmare certainly benefited from that. Sitting in the cinema and watching the credits roll, I was confused when we see a like for like beginning of the original film. The creation of the glove scene was in front of us and I thought that Wes was just re-making his first film, then like a flash and a sudden shock...we saw that it was a film being made by Craven himself, and he was doing what seemed like a Freddy film.
Before we can gather our thoughts there is a few killings and then we realise that it was a dream and it was Nancy who had the nightmare...but not Nancy but Heather playing herself. Confused? Well all fans were at the start, but it was an ingenious idea. Here we had all the people who made Freddy the Franchise so popular, playing themselves...in which Heather is being asked to star in a new Freddy film which is to be directed by Wes himself to celebrate the 10th year anniversary of the original film.
Heather is unsure as over the last few weeks she has been having crank calls from someone who sounds like Freddy. Also she is worried what effect starring in a horror have on her son Dylan who has been unwell of late. I paused then and re-read what I have written so far and realised that I have given away the first twenty minutes so I apologise. My love for this film holds no bounds. There are so many scenes that I could mention and would love to talk about but it would be unfair to those who have not seen it.
I need to keep it brief not to give away spoilers so what I will say is that this Pre-dates Scream for the style and in-jokes pattern. You can see the crew having a blast making this as we see Wes Craven and Robert Shaye (the producer of the series) all given scenes as they begin to realise that the end of the Freddy Series has spawned a real life pure evil whose essence was captured when the films were being made. Now the films have stopped, that evil is out of the bottle and has taken over the mantle of the Freddy figure. As Heather played the films heroine, the pure evil believes she is its nemesis and has targeted her and her son Dylan.
Heather needs to play Nancy again to end the killings and save everyone.
It builds to such a fast pace, and when we see Freddy for the first time, its shocking. At first I honestly thought it was someone else playing him. Fair play on Wes who only made a few tweaks to the costume but he looked evil,
(a picture of the new scary...evil Freddy)
a hat, a darker jumper and long coat....really freaky, and made the memories of the cartoon Freddy seem so far away in the distance. Even his one-liners were kept to a minimal with the outstanding and freaky line "ever played skin the cat?" a stand out moment, one of the best of the entire saga. It also contains the best scene that still sends my horror tingles in overdrive.
Heather speaking to John Saxon-her father in the films, about a real life Freddy out to get them, which of course he dismisses. She calls him John when he looks at her...
"Why are you calling me John Nancy?"
"Why are you calling me Nancy?" she replies when to her horror she realises she is in the very film she made all those years ago...and while this conversation is going on...we repeatedly cut to Freddy rising from the bed.....sheer...sheer class!
I have realised that I have again said too much and I apologise so I will wrap this up as you can tell my love for the film by now but I can not award it 5 out of 5. Why? because for all its genius and wonderful interplay, its let down by a weak climax. It seemed Wes just run out of steam, and it all ends in a flash. But maybe that is just me....the film is so near to perfection that I just did not want it to end. It really is the best of all the nightmare films and one that will make sure you never sleep again!!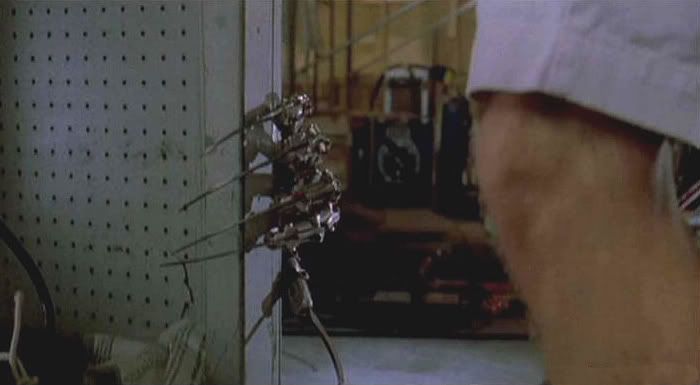 - HughesRoss