Frank Castle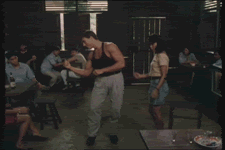 Posts: 2671
Joined: 14/10/2005
From: Parts Unknown

quote:

ORIGINAL: Cool Breeze




quote:

ORIGINAL: Sutty



quote:

ORIGINAL: Cool Breeze




quote:

ORIGINAL: Sutty




quote:

ORIGINAL: MonsterCat




quote:

ORIGINAL: Cool Breeze

Incidentally what happened to that nut job Snake Eyes? Does he not post here anymore because he was sulking that noone agreed with him about the amount of superhero movies being released these days and that Stallone wasnt on the cover of every issue of the mag?




Let's not go slapping labels like nut-job on people, OK? We all go a little fan-boyish sometimes. you especially.




agreed. it's easy to get critical - and in the cases of some others, a bit smarmy and self satisfied - about others when they can't respond. Personally I never had an issue with Snake Eyes. He started some good discussions, had plenty of valid points to make, and was - as much as anyone can be on a forum - rather approachable and likeable. Anything i didn't agree with was either argued over evenly or I just side stepped. Maybe some people are a little over sensitive...

Admittedly I have no idea whether he has been banned permanently or has jacked it in himself, or any of the whys and wherefores.
But I don;t know what could of been so bad that he aint here no more.

Anyway...

It looks like EX2 is gonna improve on the first. I like the first one a lot, but there was a bit of a slump in the middle as there often can be in these kind of movies. Hopefully Sly and West will learn from the first and only work to improve it. It is a shame there is no Mickey Rourke, but the introduction of JCVD, Ahnoldt, and Norris are a welcome addition.

Loved the opening of the trailer with Stallones "loaded" finger pointing. Very good!!




In fairness Snake had been getting a little out of hand lately.His constant ranting about comic book movies was getting tiresome and he had resorted to calling those who were looking forward to the new spiderman film as '' easy to please ''.He really had it in for the likes of Timon and myself for disagreeing with him in his ''' am i the only one who couldnt give a (expletive) about comic book movies '' thread.And really when you look at his comments in the Star Wars favoutite films thread, his comments that Ahmed Best should be beaten up and that George Lucas should be '' assassinated in a public and messy '' manner,whats scary is that he appeared to not be joking! So yeah i do think he had gotten a little nutty.

Back on topic, im really looking forward to EX2 now.It looks even bigger and better than the first and should be pretty hard core as Sly has promised.Who knows,maybe Chuck Norris will redeem his reputation after PG13gate earlier this year




So he said some people are easily pleased. So what?? And he had the occasional ramble about comic book movies. So what?? There ARE a lot of them, and not all of them are Batman Begins or The Avengers. And there are many George Lucas detractors around these here parts, myself being one of them, even though I love the original Star Wars trilogy. Don't like it? Don't read it. Easy.

Too sensitive. I'm concerned that EX2 may be too much for you now... ;)




Taken from page 85 of the Star Wars favourite films thread..

'' Lucas should've known better than to stiff the fans with the blu-rays. You know what I think? I reckon he's gonna get assassinated by some pi$$ed-off, over-zealous fan (are there any other types?!). It'll be public and it'll be messy ''

Its one thing to be a detractor and thats fine.Its another thing to wish a director DEAD because he doesnt like his films.Really that post alone should have gotten him banned from the site immediately in my opinion.

And Sutty, the last part of your last post there.Try not to be '' smarmy '' ok?

Back on topic,the new trailer for EX2 makes it look like the increased budget is all there on screen with nary a pixel of cgi in sight.I hope were going to see some proper damage this time (the digital blood in EX1 was really tacky).Either pg13gate was a big publicity stunt and it was shot R rated all along or they may have made some '' adjustments '' in post.We shall see.



sorry where does he wish the director to die???




_____________________________

" guys its ok, he just wanted his machette back"!!