azzman1984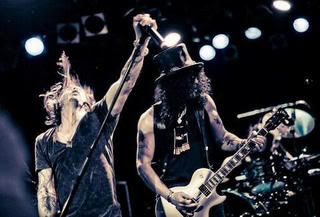 Posts: 471
Joined: 24/1/2011
From: Coventry

Here's a couple of quotes i found of Dwayne Johnson talking about The Expendables 2


quote:

The first thing is, a lot of people asked if you were asked to do The Expendables 2, would you be interested?

Johnson: [laughs] It all depends on the material. I've known Sly for a long time now and he's a buddy of mine so it all depends on the material. By the way, I want to take a moment to congratulate him and all of the guys in the movie for kicking ass two weeks in a row. So, yeah, it all depends on the material.

quote:

One other action film a number of fans were hoping to see Johnson star in next is The Expendables 2. Casting rumors continue to swirl around the production, but Johnson gave his opinion about possibly joining Sylvester Stallone's star-studded cast.

DJ: "I think he tried to come to me for the first one. I was unavailable or something like that. We had talked about doing something together. I would love to work with him. I wouldn't rule The Expendables out. Great success for him and I'm very happy for him – and all the guys, by the way! Really cool. But always, always flexible if the story is right. I'd love to work with him in some capacity."



And according to Dolph Lundgren, Sly has been talking to Channing Tatum to appear in the sequel as well!


quote:

It's been rumored that Sylvester Stallone has been considering Dwayne Johnson and Vin Diesel for the sequel to "Expendables," but now comes word that Channing Tatum is also on that list.

"I know they were talking about someone really young," said Dolph Lundgren. "Like that guy, what's his name? The guy that was in 'GI Joe,' Channing Tatum, or someone like him to bring that audience."

He added that Jean-Claude Van Damme will likely be in the sequel and if that happens, Stallone promised Lundgren that the two "Universal Soldiers" co-stars will get to battle each other.

"Stallone said something like, 'Yeah, I want you to break his f*cking neck somehow,'" explained Lundgren. "So, I think that there's a certain chance he'll be in it. I think he should play a bad guy. It's a great way to come back

Read more: http://www.worstpreviews.com/headline.php?id=20110#ixzz1C8pHsNVu