Rhubarb


Posts: 24161
Joined: 30/9/2005
From: No Direction Home



Nicholas Ray came from a radio background, and in his early years directed his only Broadway production, before promptly moving into films. He directed about twenty five feature films, but it will be three of this that he will probably be best remembered for. It's odd, though, that these three films are all so different in terms of genre, and are all – to some extent – atypical examples of the three subgenres that were – at the time that Nicholas Ray was making movies – the most popular in U.S. cinema. Of course, I'm talking about the film-noir "In A Lonely Place", the social drama "Rebel Without a Cause", and the western "Johnny Guitar". The most well known and probably the most popular of these is "Rebel Without a Cause", which starred the iconic, tragic figure of James Dean as a young boy at a new school. It is quite odd to note that all three of this film's principal cast members – Sal Mineo, Natalie Wood, and Dean himself – all died young, and watching it now it's a tragic film about the differences between generations, as well as a critique on contemporary parenting. "In A Lonely Place" has slowly become recognized as one of the best of all the film-noirs, starring Humphrey Bogart as a Hollywood writer who is prone to violence, and whose experience of writing murders places him in the center of a real one. Tonally, it is superb, with the elements of a great noir all in place, but it is through the film's frank depiction of violence and for Bogart's superbly grizzled performance that it is best known and regarded for.

Perhaps the best of Nicholas Ray's three most popular pictures is "Johnny Guitar", though, the ultimate atypical western. The titular character is played by Sterling Hayden, but in truth it is Joan Crawford's character, Vienna, who is the lead here. She owns a bar in a rough, barren part of the west, and is holding out until the rail line is built past her saloon, bringing with it custom. However, the locals take a dislike to both her support of the railway, and her friendship with suspected robber The Dancin' Kid, and attempt to bully her bar away from her. The titular Guitar shows up, though, re-kindling his old love with Crawford's Vienna, and offering some much needed support. First watching "Johnny Guitar" is a very odd experience. It is a film unlike any other, both in tone and content, and a truly atypical western. After all, this is a film in which the women hold the power, and in which the lead character is a strong-willed, aggressive, and intelligent lady. It almost seems at times that Ray is deliberately reversing the conventions of the western movie in order to highlight the inherent sexism there; for too long the women have been damsels in distress – helpless and weak - in need of a big, burly man to save them from Apaches. It is the women, Crawford's Vienna and Mercedes McCambridge's Emma Small, who have the finale's shoot-out, and it is the dynamic between these two characters that the film plays off. It is perhaps this film that best displays Ray's skill of a filmmaker; to bring themes about society and film itself, whilst at the same time entertaining his audience.

To stop writing here would be unfair to the legacy of Ray, because although these three films are his best known, there is quality throughout his filmography. I have only seen seven of his films myself, but each and every one of them has been of a high quality. His first film, "They Live By Night", may suffer from a bit of amateurish clunkiness, doubtlessly because of its first time director, but at others it is a real foreshadowing of Ray's skill as a filmmaker. It is a noir about a young man who escapes from prison but is drawn back into his former criminal life, with some superb noir direction from Ray and a perfect central performance from Farley Granger. He followed it up with the excellent "Knock on Any Door", which continued Ray's noir training and kindled his relationship with Bogart, who plays a lawyer who takes the case of a boy from the slums, against his peers' wishes. Although the two aren't necessarily similar, this film foreshadowed the themes of Lumet's "Twelve Angry Men" by seven years, yet doesn't quite get the plaudits of the later film.

"Bigger Than Life" is a superb social drama about a man (played by the brilliant James Mason) who takes a new 'miracle' drug in order to escape death, but loses his sanity as a result. It's both a condemnation of the medical field and a rather subversive look at the stifling conservative values being forced down America's throats by the Eisenhower government at the time. "The Savage Innocents" was made four years later, and starred Anthony Quinn as an Eskimo who accidentally kills a white man and is pursued because of it. This film is both an emotional study of a man's struggle for survival in a harsh world, and an examination of the Eskimos' struggle to maintain their lifestyle against encroaching civilization. It is also a starkly beautiful film, using the whiteness of the snow to evoke Inuk's innocence, and the film can count Bob Dylan as one of its fans, who wrote a song about it entitled 'The Mighty Quinn (Quinn the Eskimo)'.

Such snippets of reviews of his films, like those given above by myself, don't do a real justice to the work of Nicholas Ray, a man who has always been described as one of the true geniuses (genii?) of cinema. His works transcend their melodramatic, 'entertainment-based' plots to become intense studies of the society around them ("Bigger Than Life", "The Savage Innocents", "Rebel Without a Cause"), or critiques on filmmaking conventions themselves ("Johnny Guitar"), or simply genre films that are made special by their starkness and their brutality ("In a Lonely Place", "They Live by Night"). Jean-Luc Godard famously said 'there was theatre (Griffith), poetry (Murnau), painting (Rossellini), dance (Eisenstein), music (Renoir). Henceforward there is cinema. And the cinema is Nicholas Ray.' This couldn't be more correct, because Nicholas Ray made cinema, in its purest, rawest form. PILES
Key films: Johnny Guitar, Rebel Without A Cause, In A Lonely Place, Bigger than Life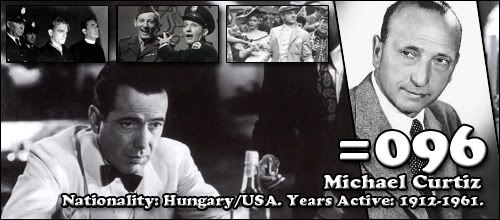 [This director does not have a blurb yet. If you'd like to do one, just get in touch]
Key Films: Casablanca, Angels With Dirty Faces, Yankee Doodle Dandy, Adventures of Robin Hood



Once upon a time in Australia, there lived a middle aged man called Mark Anthony Luhrmann, who everyone on the Empire forum loved to hate. Baz's (Mark wasn't snazzy enough, probably) only goal in life was to add a little bit of sparkle to the lives of the common public through his unique film-making. He met a wonderful woman called Catherine Martin: they married and had several cinematic babies. These babies were beautiful to look at and taught the world a lot about love, and when they weren't doing that, they just tried to make people happy. Baz and Catherine are currently trying for more babies; let it not be the end…

Luhrmann danced his way on to the big screen with the thoroughly Australian and blindingly brilliant Strictly Ballroom. A story based on a stage play he had written in the 80s, it tells of Scott Hastings, an Australian ballroom dancer who is struggling to find his own voice, so-to-speak, in the highly competitive world of dance. In one way it's your classic coming of age story, as we see Scott develop into a man confident enough to flout the rules of the dance floor, evidenced in the close when we no longer care whether or not he and Fran win the competition. However, it's also a story about breaking free of the boundaries and limits we have imposed upon us, a theme Luhrmann returns to time and time again.

Strictly Ballroom was perhaps a surprising success story, going on to earn the new director a whole host of awards, but how exactly do you follow up such a critically acclaimed first film? With a Shakespeare adaptation, of course. Though, being Baz this wasn't just going to be your typical RSC fare. He took arguably Shakespeare's most famous play and plunged it head first into the twentieth century, giving his character's guns and ecstasy, rather than swords and wine. A baby faced Leonardo Dicaprio takes the title role opposite the impeccably fresh faced Claire Danes as Juliet. Luhrmann's film was calling to a younger audience, yet he refused to drop the Shakespearean dialogue. Would it work?

Well, if you don't know, where have you been the past few years? The answer is a resounding… hmm. Opinion always seems fairly split on this, fans of Zeffirelli's film condemn it, whilst others are complete enamoured. (Luhrmann status as a marmite director is safe for now.) Whatever your opinion, it is a remarkably well made film, as indeed all Luhrmann's are. The film is an absolute joy to look at, in no small part thanks to Martin's production design, and the cast are very good, but for some reason this doesn't quite hit the mark, for me at least. It garnered critical acclaim and was Luhrmann's first film to be nominated for an Oscar, but it doesn't seem to have the mass adoration (it is out there…) that the likes of Strictly, and MR! often get (and that's even with a Radiohead 'exit' song). It does however cement Lurhmann's place as an incredibly unique contemporary director, something his Red Curtain Trilogy serves as testament to.

Luhrmann's final film in the trilogy was my personal favourite, Moulin Rouge! A film without limits in which love conquers all. Rather than rant hyperbolically for the next so many hundred words about the adoration I have for this, I'll just say, it's stunning, in every possible way, and one of the greatest pieces of cinema I've watched, because that is exactly what it is. Pure cinema. It's a world of heightened emotion and spectacular set pieces all designed to astound you. Its themes aren't necessarily profound, but they're typically 'bohemian' and typically Luhrmann.

Baz's last film was met with a fair amount of critical disdain (what do they know anyway?), his $300 million Australian epic, starring two of its biggest exports, aptly named Australia. It's easy to bang on about box office figures and say that whilst not a runaway success, it more than recouped its costs, but despite its failings, Australia, I would argue, is a good film. Taking inspiration from the Wizard of Oz, it's a story of personal growth, and once again surpassing boundaries and expectations. Admittedly, it isn't a modern masterpiece, but it's once again great cinema, in the tradition of old Hollywood. Luhrmann said he wanted to make a film which everyone could go and see and take something from, and I think he managed it. It's probably his least popular work to date, but there's something wonderfully heartfelt about it, and if you fail to see that, then you've missed the point. With a rumoured adaptation of The Great Gatsby, Luhrmann shows no signs of stopping anytime soon, and I for one would love to see what he does with Fitzgerald's opus of jazz age glamour and jaded dreamers.

Luhrmann's inclusion on this list has already prompted a few raised eyebrows, but in terms of being a great director he certainly is. He has his own style, and his partnership with Catherine Martin has led to some of the most beautiful films I've ever seen. He constantly attempts to revitalise cinema without ever losing sight of its origins, and for that he should be applauded, so I ask you all to have 'a bit of musicality, please!'.
(Honourable mention to Elab for reminding me of that quote!)
Key Films: Strictly Ballroom, Moulin Rouge!, Romeo and Juilet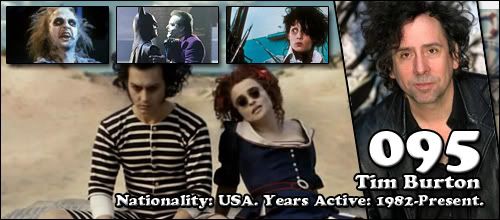 I didn't vote for Burton for this list, but I feel compelled to write this blurb anyway. Why? Well without him, there is less chance I would be writing anything on this forum at all. As a child discovering cinema, a few things caught my eye. A childhood crush on Winona Ryder was one of them, meaning I watched Beetlejuice many many times. I also loved Burton's Batman films, mainly because my parents hated them ("too dark!") and I also stayed up late one night at a friends house and watched Mars Attacks! which I thought was the most fun ever,.
Obviously as a ten year old, I had no idea that these disparate pieces of work came from the same person – they just happened to be films I liked (for different reasons). When I got older, and did realise though, I saught out the rest of his work, and in general was impressed. I was a big fan of his upon entering the weird world of films, and his films undoubtedly helped me along the way. I have little doubt that my appreciation of Ed Wood was kicked off by Burton's biopic of the same name, that they way I discovered Ray Harryhausen was through Mars Attacks! and my choice to stay up late recording old films with Christopher Lee in can be attributed directly to Sleepy Hollow.
And yet, as I said, Burton did not make my 25. Why not? Certainly I think in the last 10 years he has become decidedly hit and miss. Big Fish is a fantastic movie, but elsewhere he has moved into a strange rut. Planet of the Apes was the changing point, a big budget remake which made absolutely no sense, and was Burton's first real miss. Since that movie, he's made the previously mentioned Big Fish, remakes (or new adaptations, depending on your spin) of Charlie and the Chocolate Factory, Sweeney Todd and Alice in Wonderland, as well as his own Corpse Bride, which was the bare bones of a good film, but not much else.
It's a shame that he's resorted to these remakes – with their unimaginative casting of Johnny Depp and Helena Bonham Carter, two actors I really like, but come now – because there was a time when he was America's most interesting and imaginative filmmaker. He started life as a Disney animator (working on another childhood favourite – the Fox and the Hound, a great Disney story lacking great Disney songs) but his big break came with Pee Wee's Big Adventure. A sort of Mr Bean for American audiences, Pee Wee is always going to be the kind of character you find funny or absolutely loathe, but it is an inventive comic take on the Bicyle Thief.
He then moved on to Beetlejuice, a more gothic film that established his look and feel. It's a funny film, that is lacking in plot but not in imagination, and has some fun characters along for the ride. It was a big hit, and convinced Warner Brothers he was the right man to proceed with their new darker take on the Batman franchise.
Burton's Bat films come in for a lot of stick these days, but compare them with what went before (the secretly brilliant Adam West era) and its no surprise they were big hits at the time. Burton's Gotham is absolutely incredible looking, and he gets all the elements of the fantastical that personally, I want in a Batman film. The films aren't perfect (Jack's Joker hasn't aged well) but they are bold (even in casting – Micheal Keaton was never thought to be Batman, and he is brilliant) and imaginative.
In between his two Batman films he made his first bone fide masterpiece, the beautiful Edward Scissorhands. The tale of a man half built (by Vincent Price in his last screen role) and left confused by his inventors death, Scissorhands brings out the key theme in Burton's films, the outsider, trying to fit in by failing. He even took this theme to his biopic of the "worst director of all time", Ed Wood. Probably his best film, Wood succeeds because it isn't laughing at Wood, but is sympathetic, and presents us with a Wood who genuinely believes he has what it takes, and his blind, mindless optimisim is genuinely beautiful.
He contributed the story idea to the Nighmare Before Christmas, though he handed over the directors chair to Henry Selick, while he made his 50's B-Movie pastiche Mars Attacks (which literally has the best cast of all time). He then worked upon a Superman reboot which never happened, and made his own Hammer Horror with Sleepy Hollow.
Then came Planet of the Apes, a huge wobble, and one he doesn't seem to have totally recovered from. I for one quite like Sweeney Todd, and Alice in Wonderland and Charlie and the Chocolate Factory were enjoyable. But something seems missing – perhaps it is just imagination. Burton has become a brand, bizarrely, and he doesn't have to fight the system to get his films (or his cast – Tom Cruise was originally going to Edward Scissorhands, but Burton rightly fought for Depp. The problem is now, that he gets offered Depp every time and takes him) made. I miss the Tim Burton that would use Tom Jones as a Deus Ex Machina. That's pretty ballsy whichever way you look at it. Rhubarb
Key Films: Ed Wood, Edward Scissorhands, Beetlejuice, Sweeney Todd


< Message edited by Rhubarb -- 31/8/2010 12:23:30 AM >

_____________________________

Team Ginge
WWLD?



quote:

ORIGINAL: FritzlFan

You organisational skills sicken me, Rhubarb.