TheDudeAbides

Posts: 779
Joined: 15/1/2006
From: In the neighbourhood, feeling a bit daffy.

47) John Hillerman as Jonathan Quayle Higgins III
Magnum P.I, 1980-1988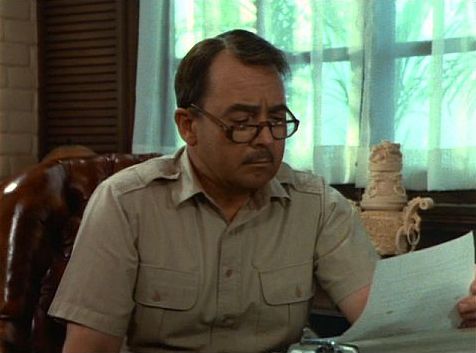 Magnum P.I is about the most fun you can have from television. It's set in Hawaii. Tom Selleck wears as little clothing as possible. There are cars and guns and palm trees and fancy drinks. Occasionally, Magnum winks at the screen and your whole conception of the fourth-wall warps a little. Once there was an Iron Man contest. It had everything.

The show deserves especial praise for maintaining until the very end a sparkling humour, interesting mysteries and committed performances, none more so than Hillerman as the overseer of the swanky estate which Magnum is supposed to be protecting. A native Texan, he manges to adopt one of the most convincing English accents I've heard attempted to play the upper-crust war hero Higgins, and has even the bearing and carriage of such a figure tuned to perfection. Treading the line between brusque affability and exasperation, he creates the perfect foil/friend/nemisis to Selleck's nonchalant investigator. Hillerman is consistently the most restrained yet funniest of the main performers, and his Higgins never sinks into a lazy 'stuffy Brit' caricature, partly thanks to good writing and partly due to his knack for capturing the complex or surprising elements of the character. Also, extra credit for playing all three of his half-brothers, who just happened to be Texan, Irish and Hispanic respectively, with very sporting gusto and not as much camp as you'd expect.

My favourite thing is that whilst Selleck was the big draw, his feelings and emotions were really not that interesting compared to seeing him strut around solving mysteries and getting into (awesome) trouble. Even the famous 'Did You See The Sunrise?' ending, brilliant as it is, is still just Tom Selleck playing Magnum being vengeful. Hillerman, however, is much more powerful and really fantastic at communicating how difficult it is for a Higgins type to express any strong emotion, and so with his performance less is always more. A simple passing reference to, for instance, his time as a POW in Japan, ends up putting a lump in my throat simply because such stoicism rings true for the character and Hillerman hints very effectively at what lies beneath. And that depth is exactly what Magnum P.I relied on to keep it from floating off on its own flimsiness.

< Message edited by TheDudeAbides -- 20/6/2010 1:12:19 AM >

_____________________________

Reviews, film chat and the like at http://resilientlittlemuscle.blogspot.com

The Oxford Student - proud home of a film section somewhere between Siskel and Ebert: http://oxfordstudent.com/?cat=11

"Hammy is a stretch, I personally think he was just over zealous."
- IMDb reviewer on Dick Powell

"Good night, Papa. Machs gut."