jamesbondguy

Posts: 6172
Joined: 6/1/2007
From: The Village Green

19) Shoplifting- The Slits


I almost went for Typical Girls, but I plumped for Shoplifting purely because I have to listen to it ten times or so every time I reach it on the punk/post-punk/reggae-punk masterpiece Cut.
Not the deepest song on the album by any means, but this one seems to sum-up the aggression, wit and apathetic strength of the riot-grrrl influencing Slits, one of the few female-dominated (or, in this case, wholly female) and truly feminist groups to emerge out of the mostly macho British punk scene of the 70's. Based on the band's experience's when they all living below the poverty-line, it's possibly pop music's most exciting condoning of petty thieving, with Ari Up's indefinable drawl and screams set against a rattling, bouncing musical back-drop.

See it here: The reformed Slits blast it out: http://www.youtube.com/watch?v=5x78FDlEcts

18) Rock'n'Roll Suicide- David Bowie


The finest song of Bowie's career (and that's saying something) comes at the end of Ziggy Stardust and The Spiders From Mars, a natural conclusion which takes every inch of power and drama already featured in the album and kicks it into the stratosphere. Bowie is know for his lyrical and, sometimes, otherworldly detachment, but here he appeals directly to the audience in his most heartbreaking and Godly vocal performance, ending the story of the Rock'n'roll suicide's 'final day' with the as-impassioned-as-it-possibly-could-be cry of "No love, you're not alone!", before urging obviously us to reach for his hands… after all, those knives that lacerate our brains? He's had his share, and he'll help us with the pain. I almost included Velvet Goldmine here, but this song is undoubtedly one of British music's greatest achievements.

See it here: http://www.youtube.com/watch?v=9jg4ekLG9Zo

17) Just Lust- Buzzcocks


The second anti-sex song, of sorts, on the list is Pete Shelley's frantic (and also gender-neutral) rebuff of multiple sexual advances by his partner, shot through with typical Buzzcockian disembowelling wit (if this song contained the lines "all this slurping and sucking/it's putting me off my food!" from You Tear Me Up, it would be perfect). A hilarious inversion of pop's usual lyrical ground ("you're telling me lies, when you say that it's a must"), it's sly philosophical musings come like atom bombs- "if passion is a fashion, then emotions are a curse…" All of it's backed by the incredibly exciting sugar-rush of music that continues to make the Buzzcocks a desperately exciting original scene punk band, whereas the McLaren gang and the Joe Strummer combo have long since passed into dusty, museum history.

See it here: http://www.youtube.com/watch?v=UTiQtJpNf44

16) Consolation Prize- Orange Juice


The most obviously Richman-inspired track from Orange Juice, this is the band at their lovelorn, camp-y best, with Collins' desperate pleas to be a rebound lover (including attempts to impress with a Roger McGuinn-style haircut (http://waynenet.files.wordpress.com/2008/06/byrds65.jpg)
which is deemed "so frightfully camp it made you laugh", and offers to buy a dress), ending in sly cries of "I'll never be man enough for you!" While Orange Juice are often credited as being an essential part of the creation of the indie pop genre, they remain far more coy, intelligent and honest group of young men than most of those that followed.

See it here: http://www.youtube.com/watch?v=LyG7VzPY_hI

15) ESP- Buzzcocks


Yay, more from the Buzzcocks. Here Steve Diggle and Pete Shelley obviously found the glorious metallic rif that underpins the song so incredibly addictive that's it's strung-out for a beautiful, doom-y four-minutes-fifty of locked-in-my-room lonely desperation. Shelley here takes the final attempt at reaching someone, asking "do you believe in ESP?", before urging the listener/target to "think!" And to think there are many terribly boring people who think that music peaked in 1967 or so. The power of alternative music summed-up in one foul, rank, rotten burst of genius.

See it here: http://www.youtube.com/watch?v=UAAppaQGZf0&feature=related

14) Nostalgia- Buzzcocks


The final song on the list from those punk layabouts, Nostalgia is possibly their most relentlessly intelligent track lyrically, a beautiful, idiosyncratic summing up of transcendental longing and boredom. Convinced that good things must be coming, Shelley rides on the wave of "nostalgia for an age yet to come." His yearning is scored by a burst of fast-giving-up-hope musical energy. Perfect, and arguably the poetic height of the original punk movement.

See it here: http://www.youtube.com/watch?v=ZkF50iY2nDs

13) Kicker Conspiracy- The Fall


Everything brilliant about The Fall, from the rattling stomp of their music to the sublime mix of vitriol and humour that is Smith's lyrics, is summed up in this classic single about football. As I said about a previous Fall song, I could listen to this forever. An post-punk kick-up-the-arse, tackling the subject with that perfect mixture of intellectual bitterness and darkly playful, amusing social commentary and humour. You might not expect it, but Smith will always be the ally of every frustrated, bored, intelligent and angry young man. Sick of the dull, foolish people who surround you? Guess what- Mark is too! Just don't expect to be able to cry on his shoulder.

See it here: Ignore Mark E Smith's hair at it's very worst and you'll get an amusing video with the band invading a grimy football stadium (and looking every inch the nonchalant gang), with MES spitting out the lyrics as you always knew he would: http://www.youtube.com/watch?v=JjyQkt04Urc

12) After Hours- The Velvet Underground


Lou Reed deemed this song "too innocent" for him to sing, and passed his lyrics, instead, over to the band's groundbreaking drummer, and all-round hero, Maureen Tucker. Her fragile, almost child-ish vocals invest the song with a freshness that is completely beguiling, and completely relatable. Although it's influence on hundreds of twee bands to come is undeniable, Reed's lyrics are so strong, so subtly reminiscent of struggle, pain and bad-times-ahead-and-behind that it outclasses it's many admirers lesser efforts. The sound of someone trying to hold on to a tiny shred of hope, it's utterly heartbreaking.

See it here: http://www.youtube.com/watch?v=zRdyDSbWg7w

11) Heroin- The Velvet Underground


The finest Velvet Underground recording, and the one that somehow defines them, combining Reed's literate, dark lyrics with a doomy, repetitive one-drum beat from Maureen Tucker and bursts/a long stream of feedback and improvisatory guitar juxtaposed with a deceptively gentle opening and simple vocal melody. In short, it sounds revolutionary, transcendental, vicious and beyond the limits of what's usually considered popular music. Reed's tale is a sad one, detailing the plight of junkie who's addiction helps him shut out the misery and violence of the world, and the lyrics cut deeper than anything else on their debut album. A night-time song, it's frustration and tragedy make it bizarrely relatable even outside of it's specific drug-focus. An incredible, remarkable work, it boots himself, from the first note onwards, into the realm of high art. This isn't just music, this is everything.

See it here: http://www.youtube.com/watch?v=6xcwt9mSbYE

10) Falling And Laughing- Orange Juice


Considered to be among the very first "indie pop" singles, it's also, along with The Smiths' This Charming Man, one of the very best, applying the foundations of scratchy-white-boy-funk-given-an-alternative-music-make-over and stories of romantic dysfunction that the genre would return to again and again. This, however, perfects the formula almost straight away, with Collins' bookish loner drawling his sentiments against a musical backdrop which already holds the future in it (from Johnny Marr to Orange Juice-wannabes Franz Ferdinand), before concluding in his delirious sobs that he's "falling and laughing". Music rarely seems as exciting, or as open.

See it here: http://www.youtube.com/watch?v=Pq8QsM7WaGw

9) This Is Our Lot- Wild Beasts


The best song so far by the best modern British indie band, the group who are defining the sound of modern England in the same way The Kinks and The Smiths did before them. This Is Our Lot is a deeply poetic account of "quiffed and cropped" lovers holding each other "all heavy with hops" while contemplating what precisely their lot in life is. Another song that fits quite neatly into this list's seemingly set groove of kitchen-sink realist poetry and drama, this could be an effective companion piece to what will be in the number one place. A startling intro allows for the song's "desolate, rainy, grey street under a starry sky" feel to set in almost immediately, infusing the whole song with a feel of oncoming doom, of tears and sorrow just waiting to pounce on the temporary, disillusioned romanticism. A number 1 single in any sane universe but, as Lou Reed would surely agree, this is no sane universe.

See it here: http://www.youtube.com/watch?v=y5-fU9fYCIo (No, the guy at the front is not in the band)

8) The Last Of The Famous International Playboys- Morrissey


"Reggie Kray, do you know my name?" Well, evidently he, and Ronnie, did. Well, obviously they did, for Ronnie, in his book, praised the tune and criticised the lyrics for being "lacking." With all respect, Mr Kray, you're a bit wrong there. One of the best of Moz's solo songs is this Fall-lite stomp, with Moz, genius that he is, turning out a set of lyrics based around a young lad who commits rather pathetic crimes in order to make himself more attractive, seduced by the news world that hands stardom to criminals. With it's Kray-baiting refrain (with a typically Moz sly reference to Ronnie's homosexuality), it's also damn catchy, a truly electric song which bounds with boover-booted energy and that sublime Moz mix of pathos, humour, sadness and social criticism, emerging as arguably his finest song on the criminal and human underworld that so fascinates him. A heaven-send, unlike anything else and anyone else.

See it here: http://www.youtube.com/watch?v=Bk1wUKoXL20

7) Rusholme Ruffians- The Smiths


That brilliant combo of Morrissey, Marr, Rourke and Joyce are back, and this time, they've gone 50's rock'n'roll. The second track on Meat Is Murder (The Headmaster Ritual was one of the songs sacrificed for the "6 songs per artist" ruling) continues the violent childhood reminisces, with Moz recalling the deadly Mancunian fairs of his youth (where, he says, he was once head butted by a random stranger while waiting in line), with just a dash of Albert Finney coming into contact with Ms Roberts and a couple of squaddies in a Nottingham fair in Saturday Night And Sunday Morning. Thus, we have a portrait of stabbings, thieving, greased-up, quiffed fair workers who become temporary objects of affection, refused engagement rings, flashing, fights, the scratching of names on arms with fountain pens to confirm love, contemplated suicide from rejected girls, and a deep desire for human affection from Moz, the eternal observer of life's parties and miseries. Johnny Marr recycles that sparkling riff from Marie's The Name, giving it a contemporary, exciting spin (this song could explain why I, and many others, adore him), and Andy Rourke throws out possibly his finest, most electrifying bass-line. And the chemistry is unstoppable. Watch out, The Smiths are coming.

See it here: A brilliant, energetic live version: http://www.youtube.com/watch?v=RIaURk_UKCs

6) I Want The One I Can't Have- The Smiths


Fittingly, the second song on Meat Is Murder is followed by the third song from Meat Is Murder, The Smiths' absolutely, terrifyingly superb summing up of desire, danger and squashed ambition. A far more ambiguous song than one would first expect, it's gender-neutrality allows for both an equally strong heterosexual and homosexual reading (personally, I prefer the latter). Along the way, Morrissey describes what he sees as the riches of the poor- "a double bed and a stalwart lover for sure"- which he explained as being about the importance of the wedding in the working-class Manchester world he grew up in, and imagery which echoes moments from many of his favourite kitchen-sink films (The Leather Boys, most explicitly), and describes a run in with a tough boy, raised on prisoner's aid, who's already killed a policeman in his early adolescence. The song ends with a return to the alley by the disused railway line of These Things Take Time, with a desperate plea for "self-validation". Marr's music is absolutely perfect, capturing the feel of a desperate, rainy day in a grim town so strongly you can almost taste it, smell it and see it (if you can't already). Were their two artists who were ever made for each other in quite the same way?

See it here: http://www.youtube.com/watch?v=pIPb83MhiLo

5) Late Night, Maudlin Street- Morrissey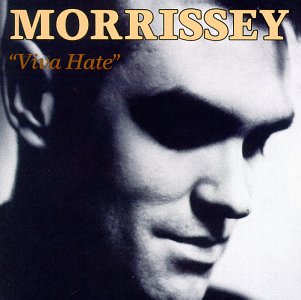 An stunning Morrissey epic, this is perhaps the song that most sums up his world view, and the territory which he lives in and which he writes about. Running to over six minutes, just after the end of The Smiths, Morrissey sings a deeply nostalgiac elegy to his old abode, Maudlin Street, and an unrequited love on the day he's about to leave. Full of sadness, the house where he "never spent a happy hour" is a trigger for memories of strong emotions and situations played out against the backdrop of a humdrum town, finally letting go of it's tight trap. "I am moving house… a half-life disappears today"… But it's not without it's humour, with Morrissey talking of the nation turning it's back and gagging whenever he takes off his clothes, and his run-ins with the old hags who can't wait to see him go, despite their polite waving hands. A deeply moving epic, I can barely listen to it without surrendering, and I've been known to well up while it plays out, as well (how embarrassing). One of his most relatable works, if it really did take the severance of his partnership with Johnny Marr to prompt him to write such a tragically nostalgic song, it seems there was a silver lining after all.

See it here: A lyrically cut-down version, this recent live performance can't begin to capture the majesty and vocal brilliance of the version on Viva Hate, but it's a decent enough sign of how moving the song is in it's original incarnation:
http://www.youtube.com/watch?v=xIP7XGiDgkk

4) Dead End Street- The Kinks


The final song from The Kinks on this list is the one that confirms, completely and ultimately, that Ray Davies was leagues ahead of any of his 60's British contemporaries. As I have already pointed out, much of this list revolves around kitchen-sink realist songs and lyrics, and Dead End Street is the most explicit, the most direct of this genre. A stunning look at continuing poverty after the end of the post-war consensus, Davies, who had financial difficulties himself throughout this time, takes the role of an unhappily unemployed, frustrated newlywed, finally realising that he is stuck on Dead End Street. "There's a crack up in the ceiling, and the kitchen sink is leaking, out of work and got no money…" "What are we living for? A two-roomed apartment on the second-floor… the rent-collector's knocking trying to get in…" "Gonna die on Dead End street…" "On a cold and frosty morning/wipe my eyes and stop me yawning/and my feet are nearly frozen/boil some tea and put some toast on", "no chance to emigrate/I'm deep in debt and now it's too much", "we both want to work so hard/ but we can't get the chance…" The song is full of classic lines of frustration, anger and melancholic resignation, an almost-anthem for the Angry Young Man movement. Oddly enough, the song ends in a vaudeville, music-hall chorus call, of sorts, which only seems to introduce a new layer of irony to the song. An utter masterpiece, and a sign that, outside of the vapid swinging sixties scene, when most lyricists were writing either utter shit or utter shit about the psychedelic drug trips of spoilt middle-class bores, there were people willing to write about the struggles of ordinary people.

See it here: http://www.youtube.com/watch?v=yK8Bk__ENKU
Or you can see the video (which was banned by the BBC for being too morbid) here. Be aware, though, that the sound is a bit flat: http://www.youtube.com/watch?v=vuhVccHBGaE&feature=related

3) I Know It's Over- The Smiths


In many ways the most overwhelmingly poetic song Morrissey wrote in The Smiths, Johnny Marr has referred to it as a "DIY, post-punk torch song." Not a bad description for this epic, first-person investigation into solitariness, sullenness and loneliness that outclasses How Soon Is Now spectacularly and easily. Beginning with "Mother, I can feel the soil falling over my head", Morrissey spins a tale of empty beds, sad brides, loutish lovers etc. before launching into the epic, interrogative mid-section, which was thrown as much at the audience as it is Morrissey himself. "If you're so clever, then why are you on your own tonight?" poses the old object of Moz's unrequited affections, before launching into multiple takes on the same questioning… good-looking, entertaining, etc etc. By the end, despite Morrissey's repeated cries about the soil falling over his head, he has accepted that "love is natural and real… but not for such as you and I", a conclusion that is both hopeless and, bizarrely, contentedly resigned. An absolute masterpiece, it's an essential track in establishing Morrissey and Marr's unique brand of melancholia. Even without the social criticism, implied or explicit, of much Smiths material (well, apart from the brief swipes at those pesky loutish lovers), it's a song which knocks anyone with a brain out upon instantly hearing it. Soaring, majestic, and ultimately clanking with the chains of desperation, both lyrically and musically, Morrissey, Marr, Rourke and Joyce rarely did a better track, throwing at us arguably the most profound emotional moment in modern music.

See it here: http://www.youtube.com/watch?v=k2e4V3Xh17w
Or a stunning live version here (it's slightly cut down lyrically, but Moz excels himself vocally and passionately): http://www.youtube.com/watch?v=Yz5JtWNwJ-k

2) Stretch Out And Wait- The Smiths


In the 1980's Morrissey was celibate. How, then, did he write one of the greatest songs ever about sex? Missing much of the negativity of These Things Take Time and Miserable Lie, Stretch Out And Wait takes a different approach. Full of typical Moz-Marr melancholia, but with a good dash of enchantment and optimism, it places it's story of sexual awakening against the backdrop of a "high-rise estate" and "amid concrete and clay and general decay", with the protagonist letting their puny body lie down, conducting the way with their cold hands (it's the Eskimo blood in the veins) and launching into a burst of existential angst among the most moving passages in Morrissey's work- "Will the world end in the night time?" "I really don't know." "Will the world end in the day time?" "I really don't know" "And is there any point ever having children?" "Oh, I don't know"- before ending with an echoing guitar-strumming epilogue from Marr (yes, the version from The World Won't Listen is far superior). A tender, realistic and gentle work of living just outside of society and it's rules and regulations, it, does, however, still pose the idea that sex is nothing more than a way to let yourself lose yourself. Ah well, with songs as open and as passionate as this, who cares?

See it here: http://www.youtube.com/watch?v=SGcKPWOo9nk

1) Still Ill- The Smiths


A seeming constant ever since I first got into The Smiths, this song has slowly morphed itself into something approaching the story of my life- or, at least, it feels that way. Beginning by stating that "life is simply taking and not giving/England is mine and it owes me a living!", Morrissey launches into a classic song which could define him lyrically- there's romantic disillusionment, a bleak portrait of England, a kitchen-sink setting (I love the "under the iron bridge" refrain especially), a writing off of the usefulness of employment, and the early Smiths-theme of a sort of constant, ambiguous weakness/illness. Not to mention a small slice of wit (the sore lips line always makes me smile). Lyrically, it's one of Morrissey's finest early Smiths roars of working-class disillusionment. Marr's composition starts off with a clanking, scratching piece of guitar, before launching, sublimely, into a melodic masterpiece, underpinned by the superb work of Rourke and Joyce. Nothing is out of place, nothing could be improved. A song that will remain incredibly important for me for just about forever.

See it here: Some typically fine dancing from Moz in this live version: http://www.youtube.com/watch?v=XyIH9AV3KwQ

The songs I most regret leaving out: The Headmaster Ritual, Half A Person, Cemetry Gates, There Is A Light That Never Goes Out, Frankly Mr Shankly, Nowhere Fast, Well I Wonder, Bigmouth Strikes Again, Reel Around The Fountain, Sweet And Tender Hooligan, Miserable Lie, Asleep, Girl Afraid among many others by The Smiths




_____________________________

Just like Geoffrey Ingram.