matty_b

Posts: 14585
Joined: 19/10/2005
From: Outpost 31 calling McMurtle.

49) Clint Eastwood as Frankie Dunn (Million Dollar Baby, Clint Eastwood, 2004)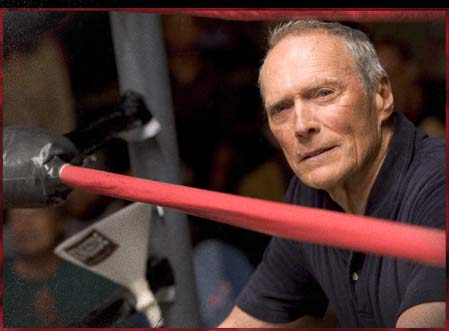 Clint Eastwood has spent so much time being arguably The Greatest Living American, we sometimes forgot he was an actor first, director second. And if his acting roles have become more and more rare over the years, then we really should treasure them, especially one as good as this. As Empire rightly pointed out this month, Eastwood's films usually deal with regret, and a masculine regret in particular. Frankie Dunn is a great example of this and part of the lineage that Eastwood explores as an actor from Unforgiven to Gran Torino. As an elderly boxing trainer with a decent, if unspectacular gym to run, he reluctantly agrees to take on Hilary Swank as a protege, against all his instincts. His instincts eventually prove tragically right, and Eastwood makes Frankie a monumentally tragic figure in his own right. From the way he snarls his prayers out night after night, you know there's a lifetime of regret in his life and he seemingly spends the whole time holding this regret in with his clenched jaw and whole ram-rod frame of his body suggesting he's only just keeping his demons at bay. He also excels at convincing as an ex-fighter and someone who knows nothing else but boxing. Remarkably lithe for his age (no wonder there were rumours he could portray an ageing Batman), he moves with ease of someone with not only a lifetime of pain etched into his body, but a lifetime of nimble training on his feet. What's truly great about this performance is that Frankie is a character is someone who has clearly lived and has had nothing but a lifetime of lemons to make into lemonade. Eastwood fully convinces you of this lifetime and by the end, as his heart is breaking with guilt at the unfairness of Maggie's fate, that raging grief is in his eyes and trembling hands. Still holding it in. Still full of regret. Still nothing else but Frankie Dunn in there.

Key moment - For a film full of bitter and sad moments, it seems to unusual to highlight Eastwood's deadpan comic delivery, but it's a wonderful tool in its own right. I'm thinking of the numerous times he winds up his local priest, particulary suggesting that Jesus is a demigod, leading the priest to explode "There are no demigods, you fucking pagan!"

Up next - one of the best debuts ever.

< Message edited by matty_b -- 7/3/2010 12:56:39 PM >

_____________________________


quote:

ORIGINAL: Cool Breeze
Mattyb is a shining example of what the perfect Empire Forum member is.