Frank Castle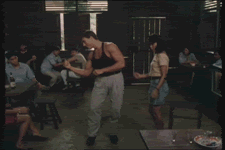 Posts: 2688
Joined: 14/10/2005
From: Parts Unknown

quote:

ORIGINAL: adambatman82




quote:

ORIGINAL: JRockwell



quote:

ORIGINAL: adambatman82




quote:

ORIGINAL: JRockwell

Brian Singer dressed the Xmen up as the Village People.

Downey Jr, Bridges, Bana, Norton, Christian Bale, Ledger don't worry about their faces being covered up. They understand the importance of fidelity to a character and respect it. Singer did not, leaving the Xmen leather clad embarrassments. Not wanting to cover up Jackman's face in Xmen I? No one knew who he was then!

Be faithful to the source material and respect the lore. And give the Wolverine his suit back.





the reason for wolverine not wearing the old comic suit is because it would look stupid when applied to the semi-real world the film is set in. i dont ever recall singer saying anywhere that he didnt want to cover jackman's face up. link?




I can't remember where I read it, something like "with all these great stars, why would I cover up their faces?" - and then he coverd up Sir Ian's. And that argument of his is bogus, semi-real world? What like the semi-real world's of the new Batman and Ironman films? Can you imagine Batman walking around in just a leather jacket? It's lazy film making, he's using that as an excuse, just find a way of making his costume applicable, necessary.

Brian: "What gives you the right? What's the difference between you and me?"
Batman: "I'm wearing a leather jacket"





your talking utter rubbish. that made up bryan singer quote is hilarious, if your gonna invent a quote at least make it sound like something the guy would say! you contradicted your own point by then pointing out how he covered up mckellen's face! and lets not forget perhaps the most attractive member of the X-cast Mystique, who's face is completely covered in scaly blue stuff! and then theres nightcrawler...




To be honest im sure i heard he said something along those lines?? It wouldnt have been hard to change the black leather into brown leather similer to one of his costumes??

Oh and doesnt wolverine only wear the mask in battle? so they still would have had face time for jackman as im pretty sure the 1st 2 x-men films weren't wolverine fighting all the way threw.



_____________________________

" guys its ok, he just wanted his machette back"!!