Baby Bear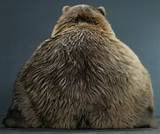 Posts: 5527
Joined: 6/11/2005
From: Back stalking Wilbert....oh, yes...

One of my favourite stories is about mammoths.

Now, we are to assume that they died out about 10,000 years ago..............

But, the Yakuts of Siberia still dig them out. The tusks of at least 100,000 have been disinterred from the ice in the last two to three hundred years. When a body has been found the meat was cooked for their dogs. It's as fresh as the day it was frozen ( Captain Birdseye would be proud..........)

The Yakuts seem to think that the mammoth is still around. In fact, they think that the reason that they aren't seen, but their bodies are found underground, is that they burrow, like moles.

Jeez, I thought I had problems on my lawns..................


_____________________________

" At least he was asleep when I hit him with the shovel......." Moses Lawn. RIP

Has tin foil hat issues ( thanks Woger...love it )

Felix: "Poor guy. They must be like space hoppers by now."

lympo :
I have no idea how the idea came about! one moment I was eating turkey, the next i was on all fours

Daz : Get. A fucking. Room.