Saboteur
1942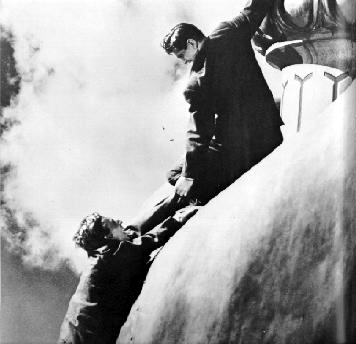 Certificate
PG
Cast
Priscilla Lane
Robert Cummings
Otto Kruger
Alan Baxter
Screenwriters
Alfred Hitchcock
Peter Viertel
Joan Harrison
Dorothy Parker
Running Time
108 minutes
Empire Plot Synopsis:
Engineer Barry Kane is falsely accused of an arson attack a Californian aircraft factory that was committed by Frank Fry on behalf of Fifth Columnist, Charles Tobin. But, as Kane seeks to track down the perpetrators, reluctant accomplice Patricia Martin is far from convinced of his innocence.
Every time I watch one of these films, I keep waiting for disappointment. Iíve been purposefully leaving the famous classics for the end of my adventure so that I can end on a high. It seems however that this idea is now well and truly redundant, as I have yet to face disappointment. Saboteur, whilst far from perfect, is a fantastically fun adrenaline ride, which captured my attention and imagination from start to finish.
There is no doubting this filmís flaws. The acting is good, but never great, a testament to the fact that Hitch couldnít get the cast he wanted. Also, although I love turning off my logic for films, this is a very hard task with Saboteur. Itís great fun watching Barry get out of all of these situations, but they often leave you scratching your head. Others may argue that the patriotism is over the top; however this doesnít bother me, especially considering its wartime release. So this is far from a masterpiece, but yet it is still more imaginative and creative than the majority of film-making today and still grips and thrills me. Essentially itís an early draft of North by Northwest, and whilst falling short of its glory, it still holds its own as great fun.
One of my favourite aspects of this film is the arrangement of kind-hearted characters Barry meets on his travels along the way. The highlight for me is the lorry driver, played by Murray Alper, who is longing for a bit of excitement and gets it with Barry. He steals the scene every time heís on camera and is a delight to watch. The travelling circus also entertains. Itís great to see how these people interact with each other and how theyíre ultimately good people, despite their appearance. The only encounter which doesnít fully work is the meeting with the blind man. I think itís too much of a stretch to believe that he can Ďsense innocenceí although itís still an ok scene.
This film is also full of great memorable moments. The opening with the huge explosion is great and something Iím sure even todayís action junkies would enjoy. I personally loved watching Barry escape by jumping into the river. Again, it may be a bit of a stretch for him to be able to swim and survive wearing handcuffs, but a good moment nonetheless. And of course, the classic end sequence atop the Statue of Liberty is enthralling. Again, this is a moment he would perfect in North by Northwest on Mount Rushmore, but it is full of suspense and is a first-rate climax.
Verdict:
Far from perfect, but even further from dull. Saboteur is a well-paced, inventive thrill-ride, which still shouldnít be missed. 8/10