Baby Bear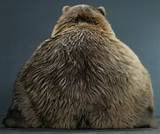 Posts: 5527
Joined: 6/11/2005
From: Back stalking Wilbert....oh, yes...

quote:

ORIGINAL: Frank Castle

I managed to watch it all the way threw and it was pretty poor.You could see most of the jokes a mile away. the best thing in it was prob matt lucus who seemed to be at least having fun with his role. (his sidekick though surely a role made for david walliams???)
Well i found the dance quite sexy!! she is fit though!!


With you all the way on that one. Do you think Walliams said " I will wear the fat suit, throw up on cue and grope a granny, but I REFUSE to appear in Krod Mandaloon. I have principals, you know? "

However, I will be watching it for the fact I love the way Sean delivers his lines. Call me easily pleased at such eye candy.............



_____________________________

" At least he was asleep when I hit him with the shovel......." Moses Lawn. RIP

Has tin foil hat issues ( thanks Woger...love it )

Felix: "Poor guy. They must be like space hoppers by now."

lympo :
I have no idea how the idea came about! one moment I was eating turkey, the next i was on all fours

Daz : Get. A fucking. Room.