Timon

Posts: 14549
Joined: 30/9/2005
From: Bristol

Upon perusing this thread, I've noticed I never wrote anything of substance about the film...which is odd considering it (along with Raiders) is my favorite film of all time.

So where to begin? Me trading in my 25th anniversary DVD just so I could get the R1 30th Anniversary DVD? The fact that the 'head' scene was the first time I said 'Fuck' in front of my parents? The fact that I'm now obsessed with seeing a film about the USS Indianapolis?

Either way, I think Jaws affected me more than I'd care to admit. I still get nervous when I swim in the sea - that feeling that something is watching you, that primal fear of teeth and drowning is something I've never been able to shake.

But it's not just the shark killing young boys or promisicuous teenagers, it's all about the characters; Martin "I'm the Chief, I can do whatever I want." Brody, Matt Hooper and of course Quint are perhaps the best trio of characters dumped together in to a film. Be it their initial bickering ("You've got city hands Mr Hooper! Been counting money all your life!") to their bonding over tattoos and drunken singing really sells them to you. You want them to survive and you want them to slay the beast.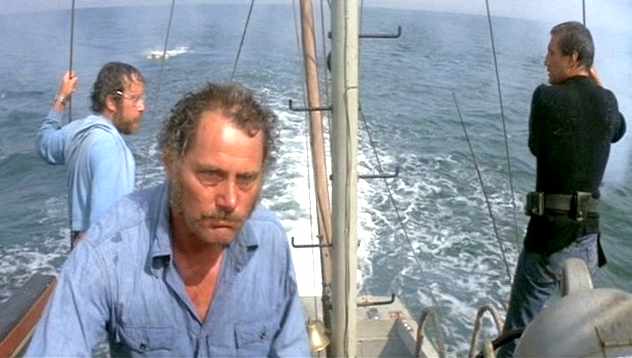 Now the shark often gets a lot of stick. It really shouldn't. When it appears, it's in short, effective bursts and when it's not seen, you feel it. The ripples on the water, the barrels moving towards The Orca and of course, John Williams score.




At the end of the day though is the fact that it's timeless. I'm not talking about the FX or the styles, but the story. The whole man Vs beast or the 'one man/group standing alone' - it's the stuff of legend, which is what Jaws is. A cinematic legend.

I just hope the documentary, The Shark Is Still Working gets a theatrical release. I'd be there opening day.



_____________________________

"I put no stock in religion. By the word 'religion', I have seen the lunacy of fanatics of every denomination be called 'The Will of God'. Holiness is in right action and courage on behalf of those who cannot defend themselves."

Twitter: @timonsingh