Baby Bear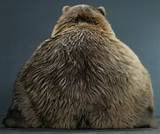 Posts: 5527
Joined: 6/11/2005
From: Back stalking Wilbert....oh, yes...

Nice one, Felix!


Well, this weekend I was supposed to be going out with my bro for a joint birthday celebration ( he's 61, I'm 44 ) but he has changed his plans now, so I'm at a loose end. I may take myself out instead.

This evening, though, my nephew is here so we are having a Wii night followed by bubble baths , cuddles and a James and the Giant Peach story before bed.

It seems so long ago that I was a rock chick who partied every night!

And you, honey?





_____________________________

" At least he was asleep when I hit him with the shovel......." Moses Lawn. RIP

Has tin foil hat issues ( thanks Woger...love it )

Felix: "Poor guy. They must be like space hoppers by now."

lympo :
I have no idea how the idea came about! one moment I was eating turkey, the next i was on all fours

Daz : Get. A fucking. Room.