Mr Terrific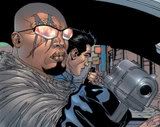 Posts: 1607
Joined: 15/7/2006

quote:

ORIGINAL: Mr Terrific

quote:

They're probably going to hire in a complete hack to make a shit film that's completely un-necessary anyway. This got greenlit just after Iron Man cleaned up in the summer.



Not an unreasonable prediction, studio's want a guaranteed moneymaker in this time of economic woe. Making money off the back of an original film has been done before....Wicker Man anybody? "Shit hack" may be harsh, but they'll deffo go for one who will go with what the studio wants and not rock the boat.



So, if you were in the movie business, in an economically difficult time, you would deliberately aim for mediocrity and therefore probably ensure a loss rather than hiring the best people to help ensure the best possible return?

You're fired!

Smart business people don't think like that when times are hard - they minimise risk not by hedging their bets on mediocre products in the hope that losses will be minimised, they rather try to minimise risk by being better value than the competition - and having a decent product is the only way to maximise the possibility of that happening (history tells us this over and over again in any number of industries). I agree that the films that get made over the next few years will be 'sure-fire' money makers in terms of themes and franchise, but the 'rent-a-hack' way of thinking is erroneous imo.

Making a hack job remake only makes sense when the market is buoyant - when people can afford to see lots of films, so even crummy ones get a chance of being seen. Studios stand a better chance of making their money back by only using the best talent (albeit on 'safer' projects). These tough economic times will ensure that, in fact, the hacks will be culled - less movies will be made and the best talent - who still have to/will want to work remember - will be directly competing with the hacks for these projects too.

Like I say, I don't think we'll be seeing an awful lot in the way of originality in the types of film we'll be seeing over the next few years, but I think there's a good chance of seeing a bit of Darwinism in action in the world of movie makers - and a fair bit of rubbish being culled, hopefully. Perhaps we'll lose a few 'difficult' auteurs in the process too, but if they're really that talented then they won't need the studios anyway.



The movie business is like any business, so when facing economic problems, won't take risks, will cut spending and look for shortcuts.

Making a remake is an easy option, built in fanbase, throw in formulaic trailer with things blowing up and stuff et volia....bums on seats.





_____________________________

..."lost like tears in the rain....."

"He claims he is a man. And one of the things about being a man is getting knocked on your ass and learning from it."

http://www.dccomics.com/heroes_and_villains/?hv=origin_stories/mr_terrific