Frank Castle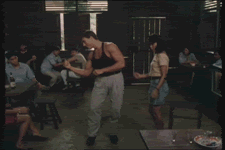 Posts: 2682
Joined: 14/10/2005
From: Parts Unknown

quote:

ORIGINAL: theoriginalcynic

Thank you. Thank you. Now, I just need to remember to buy it.

I've just watched this weeks TNA and I was impressed with AJ vs Pope and Angle vs Tomko but the matches are still far too short. Seriously, Nash beats Foley at his own game in two minutes. What are you doing agreeing to this Mick? It seems like anyone can sneak into the impact zone, X-pac and Hall had no problem again this week. What no security? Angle vs Hogan is bound to happen at some point and it should be a decent build up with probably an average match. Joe is so out of shape but his end move does look brutal. If he did that wrong he'd break your neck.

As much as I love Velvet Sky, her punches are terrible. WWE would never put up with that. I am enjoying that storyline though. Hogan seems rusty on the mic, it seemed like he forgot what he was supposed to say at the start, and then remembered again. Please stop with the plants, four sides, Hogan knows best, Nasty Boys...really?



Just because someones bigger then the usual wrestler mold doesnt mean there out of shape, ive seen joe wrestle loads of times and can honestly say he hasnt exactly looked knackered or anything like that. saying that it would be nice if he laid off the pies!! lol

Totally agree with the matches being to short, they have 2 hours now surely they can fit in longer matches. And why the hell was foley vs nash the main event? shouldnt the champ be ending the show? thats not just tna where's shamus on the raw card in the middle when he's the wwe champ! arguably the biggest belt in wwe.

As for the women wwe wouldnt put up with it because do the women even punch in wwe, isnt it more forearm smashes they do?? Im to busy wincing at the massive screams they give out to notice what there doing?

I think im the only person in the world looking forward to the nasty boys vs team 3d match?? if they do it hardcore style rules and the nasty boys bugger off after the feud.




_____________________________

" guys its ok, he just wanted his machette back"!!