Frank Castle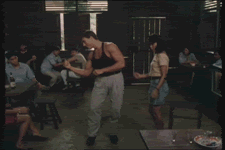 Posts: 2682
Joined: 14/10/2005
From: Parts Unknown

I went to the cardiff show and gotta say it blew the wwe undertaker show out the park!! where as in wwe they turned up did there thing then buggered off without much fanfare or care for the fans. The tna one was pretty much a fan show. You walk in and dixie carters just stood there with fans chatting doing autographs/photos.Threw twitter she finds a fan to escort her to the ring later on to chat to the whole crowd. (can u imagine vince doing this??or even at a house show) Gotta say for 45 she is fine!!

Also all threw the night random people load cheering in the crowd got backstage passes. I was gutted as the woman next to us got em for her and her boyfriend
. Also they got some kids in the ring with a few wrestlers but more of that later. Though i enjoyed the wwe show this was so much it seemed for us the fans.

It started with an awesome 3 way dance for a number 1 x-division title shot between suicide,sabin and amazing red(something which confused me but he lost the title on impact aparently). This was an unreal ending with a sick looking amazing reds finisher off the top rope!! Couldnt believe some of the moves these guys were risking for a house show.
The beautiful people came next and they certainly were that wow!!!! they squared off against taylor wilde (who looked amazing herself) and sarita. Hermada was the special ref. Guess they had to use her after the kong thing.

Cardiffs own!! rob terry (this made me laugth seeing as it says he's from swansea in the programme!!) squared off and won the global title from eric young next. and gotta say rob pulled off the big man style match fine, Ive not seen him wrestle much but i can see he's been training hard. Aparently this was the 1st time a titles changed hands overseas in tna. Yes rob is indeed huge!!! but from his little tight pants aparently not all over
.

We had a 6man table match next with rhyno,hernandez(who all threw the match just seemed to be chatting with the fans behind him with a massive smile on his face) and THE POPE!! facing off against team 3d and.......they pulled a mystery partner thing on us as the lights went out and...........Kurt angle music plays!!!! fecking unbelievable reaction from the crowd as we all stand up cheering angle angle angle bowing down!! Team 3d and angle get the win with a angle slam threw a table on rhyno. After the match team 3d refuse to leave and stop angle as well as they pick some kids from the crowd and autograph bits of broken table for them and get the crowd cheering the kids name!! quite funny moment when the kids are asked who there fav wrestler are and angles face when the little girl says aj styles!! and the boy says angle, angle goes mentally happy and hugs the kid ,high fives him, shakes his hand etc.
After a small break we have samoa joe vs daniels in a i quit match. back and forth stuff here. joe heavily over with the crowd, It was pretty much a submission match. Joe wins with his taz stlye submission move. I was marking big time for joe..had to after buying his t-shirt it was between his,machine guns and british invasion. Yeah £20 was a bit steep but they were cheaper then the wwe show.

Beer money vs the british invasion came next. the british invasion were bragging about being english at the start of the crowd for some cheap heat. there was a beer money chant all the way threw the match. 1 side beer next money!! Funny stuff i was in the beer side


the main event was wolfe (i was tempted with his football style shirt but was bit more then the others) vs aj. This was a fantastic match wolfes wrestling style going well against aj's high flying. if they had any sense they would put these in a feud (it aint gonna happen of course). Again amazed at the risks styles was taking. Styles obviously got the win.

Overall the night was amazing and im going again next time there coming i have to!! The best thing they done was ignore whats happening in tna right now and use the original wrestlers.





_____________________________

" guys its ok, he just wanted his machette back"!!