elab49

Posts: 54399
Joined: 1/10/2005

No. 23.




Laura (1944)

Director: Otto Preminger
Writers: Jay Dratler/Samuel Hoffenstein/Betty Reinhardt from a novel by Vera Caspary.

Spoiler Free Summary:

The film tells the tale, in voiceover and flashback, of the life of young advertising executive Laura Hunt, whose murder has placed those closest to her under suspicion. Fielding mentors and fiancés, hard-edged detective Mark MacPherson finds that he, too, is coming under her spell. It is near impossible to discuss this film without spoilers – please keep that in mind if you haven't seen the film.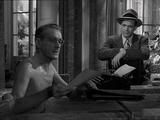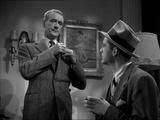 Laura is among the most famous of film noirs although, interestingly, some might dispute its categorisation – a sumptuously shot upper-class drawing room murder mystery is not what many would pigeonhole noir into. But the success of this tale of obsession, along with other key releases in 1944, helped pump-prime an outpouring of classic noir well into the late 50s, even if few that followed were situated in the same world as Laura – those few include The Unsuspected, a film lower down on this list.

Although the idea was put together by Preminger the original director was Rouben Mamoulian (as Zanuck refused to have Preminger on the 20th Century lot). After initial filming Zanuck finally caved and Preminger was put where he belonged, behind the camera. I've no idea what Mamoulian's Laura would have been like, but Preminger's deserves its place in movie history.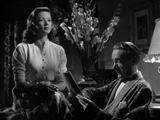 Ignoring the murder mystery overlay, Laura is a tale of obsession. It constructs in memory a perfect woman, emphasised by a portrait MacPherson can't seem to escape, but a creation which is effectively shot-down mid film. For that first half Laura is presented to us via the voiceover of Waldo Lydecker (Clifton Webb), a middle-aged, acid-tongued columnist whom Laura approached to help with her work at the tender age of 17. It's not entirely from his point of view – various scenes during this section describe events Lydecker wasn't present at – but he guides our impression of both the victim and the people who surrounded her. And, importantly, he knows it. Waldo is unashamedly possessive of his pupil, the immediately possessive 'I was the only one who really knew her'. He openly acknowledges queering her relationships with other men and all but stalking her when he felt her drifting away. And his sense of Laura's interests is clearly acute, picking up her latest interest almost immediately.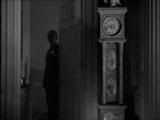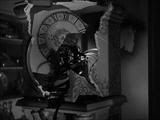 And this help sets up the central sparring match. Not with louche wastrel Shelby, but with MacPherson. Waldo doesn't like him touching his possessions, when the cop first visits his 'lavish' apartment, any more than he will tolerate Mark making himself home in Laura's apartment (a sub-let?) or with Laura herself. But the interesting thing is that MacPherson really is just as bad. Seduced into a dream by insinuating himself in Laura's life and apartment, he is equally as intrusive, creating just as unrealistic a picture of Laura. He shrugs off his jacket in her room and makes himself at home, he rifles her drawers, reads her letters and her diary. When she appears, and he finally realises he isn't waking into a dream, he demands her dismissal of Shelby, reacts to any sign of interest in other men and eventually realises himself that he needs to talk to her in neutral surroundings, Even so, does anyone think this relationship has any chance of success? The real Laura is not a fake painting (a painted over photograph was used), or the paragon of Waldo's imagination. She makes false promises, she's a murder suspect herself – a living, breathing woman. It's hard to dismiss Waldo's view of their potential future.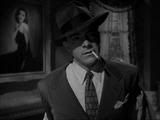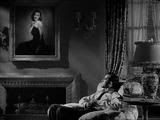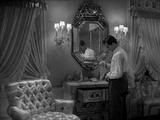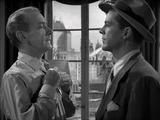 "Laura considered me the wisest, the wittiest the most interesting man she'd ever met – I was in complete accord with her on that point"

At the films centre is one of the most unique and idiosyncratic characters in noir – Clifton Webb as Waldo Lydecker. Laura was essentially his feature debut after years in theatre – perfect casting, and at Preminger's insistence. With poet Hoffenstein pepping up Waldo's dyspeptic barbs, Webb received a very deserved Oscar nomination but was among the many nominees robbed that night by the mawkish horror of McCarey's clerical soap-opera. His obsessive and asexual relationship with Laura appears to have controlled her life although, as the relationship with Shelby seems to suggest, only as far as she was willing to allow. And for 5 years she did allow. There's no suggestion she used Waldo and seems to genuinely enjoy his company and care for him – he was right that his demolishing of a man's worth would bring her back to him, relying on her intelligence, and the final shot is surely confirmation that this was not just a case of a foolish older man being used.




As well as Waldo, it's the nature of the characters generally that make Laura noir. The film is packed with unhealthy relationships and characters fully aware of their own limitations. Shelby Carpenter (beautifully played by Vincent Price) is an untrustworthy charmer who includes just enough honest self-deprecation to initially seduce Laura but not enough to properly conceal his roving eye. And here, again, there does seem to be some genuine feeling – you could cynically suggest that saving someone from a murder rap will bind them to you for life, but his dismissal of Ann, that Laura needs him, feels like more than that. Neither is he without self-awareness - "I've spent very little time in observing my own character Mr MacPherson". But not nearly as much as the great Judith Anderson. Playing Laura's aunt, Ann Treadaway, her need for Shelby is blatant throughout. Pawing at him, persuading him, even when rebuffed. This isn't some silly older woman though – Ann is fully aware of what Shelby is and what he needs, pointing this out rather bluntly to her niece. Unlike Laura, she can afford Shelby, even if he is charged with murder – and she knows he is capable of it. After all, he's just like her – Shelby could be the killer because she could have been.
.



The theme of obsession is supported behind the camera. The film is imbued with a single theme by David Raksin – a single-minded focus on the idea of Laura. The same music, in different forms, everywhere they go, over and over again – a trick used regularly in later films foregrounding obsession as well. Just that one piece that you can't get out of your mind.

Preminger's camera rarely rests in the film – always moving through rooms then cuts to new action. Interestingly there are relatively few of the individual reaction shots common in murder mysteries of this type. The screen is normally full of people and when information is given out the viewer gets the choice of where to look as the camera gives no hints as to who the killer might be, giving the audience some credit for their intelligence. And LaShelle's Oscar-winning camerawork is, of course, gorgeous. Less of the film plays in the shadows than most of this list but we do still get some almost obligatory shots of smoke in light. His hand helps build the tension throughout the final 10 minutes or so and it also at times emphasises the links between Waldo and Mark – the stalking outside Laura's apartment, similar shots, neither able to stay away.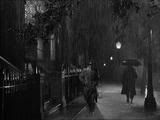 Laura is one of the first films I remember knowing was a film noir, before I really had a feel for what the term meant. It was just how the film was always introduced – this was 'film noir'. So it didn't really prepare me in some ways for the gritty and nasty backwaters of the genre I'd encounter in later years. But still – the dreamlike imagery, the cynical characters with no little awareness of their fate, and the obsessions of the leads mean, high class drawing room or no, there is no argument, IMO, of its reputation among the best of classic film noir. And as for a mystery romance? As I said above – I've never been persuaded of the idea that that little tryst will work out once the real world starts intruding. And that's not my idea of a happy ending at all.

Trivia: Alexander Woolcott, critic, commentator and member of the Algonquin Round Table (the restaurant Waldo eats at regularly in the film) was not only the inspiration for Waldo Lydecker but also the great Sheridan Whiteside in The Man Who Came To Dinner.

< Message edited by elab49 -- 2/2/2012 10:12:23 PM >

_____________________________

Lips Together and Blow - blogtasticness and Glasgow Film Festival GFF13!


quote:

ORIGINAL: Deviation] LIKE AMERICA'S SWEETHEARTS TOO. IT MADE ME LAUGH A LOT AND THOUGHT IT WAS WITTY. ALSO I FEEL SLOWLY DYING INSIDE. I KEEP AGREEING WITH ELAB.
Annual Poll 2013 - All Lists Welcome