Frank Castle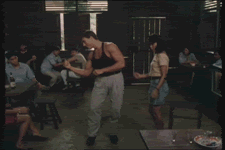 Posts: 2688
Joined: 14/10/2005
From: Parts Unknown

quote:

ORIGINAL: TheSpleen

RAW REVIEW (SPOILERS)

HHH, HHH, HHH, 'The locker room sucks I rule. They're cowards I'm Superman'.

HHH. Cena's music, 'No, I'm Superman 'cus I'm still here woo.' Cena, Cena, same old shit on the mic, bad joke, Mike Adamle.

Sheamus' music, HHH, HHH, 'I love you Hunter, Just want to remind everyone you're god's gift to wrestling and you've beaten me before.'

They shout MONDAY NIGHT RAW.

Punk's music, Watered down promo, 'I'm controversial'.  (Punk cries inside wondering why he signed a new contract) HHH, HHH, HHH.

Match. Punk commentary. Could be interesting? Nope. Vince's music hits, 'Everyone leave except Hunter.'  Match ends. HHH, HHH, HHH.  Most boring character on RAW in years named general manager. HHH, HHH.

5 Mins of air time dedicated to announcers returning. Morrison squash match.  HHH, HHH, HHH.

Mark Henry attempts a promo. Quick match. Cody interferes, Tries to sound scary. Diva's 'match' fast forward. General manager cuts awful promo. Insult J.R time, cheap heat, J.R fired for the millionth time.

Mason Ryan, wellness policy seems to be very selective. Quick match.

Del Rio VS Punk, finally a match that may be good/last a few mins/not have someone interupt and stop the match. The match is stopped by new RAW GM.
Truth and Miz rehired. Punk and Rio tag now. TNA lives in WWE.

Oh no! Punk's helpless, two one one beat down. Surely not even God could overcome these odds. Punk needs help, he can't fight them both he's not strong enough.

HHH, HHH, HHH, HHH, HHH, thank you for saving Punk's life.

FIN.









pretty much spot on!! though you could have put recent monster world champ henry almost squashed in under 5 mins by megorton.





_____________________________

" guys its ok, he just wanted his machette back"!!