homersimpson_esq

Posts: 20064
Joined: 30/9/2005
From: Springfield

02. Alien (1979)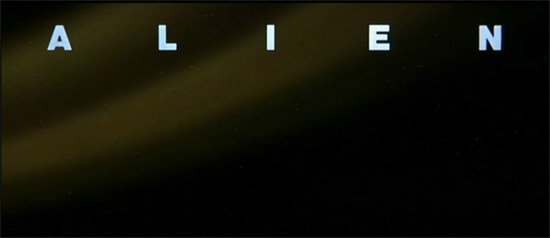 (Contains spoilers - now available in invisiotext, marked with ---> <---!)

Back in 1988/1989, at the tender age of 7 or 8 (I forget which now) my parents went out for the evening, leaving my with my eldest brother, ten years my senior. (This fact makes me think I was 8.) He had recently purchased a film on VHS, and he said I could watch it if I promised not to tell mum and dad. That film, as you may well have guessed, was Alien. I was understandably frightened, but not soul-destroying so. I was, fortunately, able to separate fact from fiction, and be frightened in the 'right way', as opposed to scarred for life.

Nineteen years later, and Alien remains one of my all time favourite films. It also introduced me to the subject of this thread, one of my favourite directors. Almost every aspect of this film reeks of perfection. From those stark and yet entrancing opening titles, to Jerry Goldsmith's brilliant score, to the set and prop design, to the simple yet oh-so-effective story, to the note-perfect acting, and finally to the iconic, yet-to-be-equalled alien design of H.R.Giger's. Here is a film that creates an entire world – that at which Scott reigns supreme amongst his peers – and spawned a legacy of admittedly diminishing returns. Nevertheless, taken on its own merits, one cannot dispute the raw power that Alien exudes from every frame.

At its core, Alien is little more than a slasher. --->One by one, the seven crew members – Kane, Brett, Dallas, Ash, Parker, Lambert, and Ripley – are picked off one by one, until only Ripley remains. (OK, Ash is 'killed' by Parker, but the alien does the rest.) <--- However, over this simplistic framework, Scott weaves a believable future, a workable crew relationship, and a world so complete, suspension of disbelief is barely necessary. In the opening scenes, after the titles, and after the shot of the ship that beats Star Wars at its own game just two years after A New Hope was released, the computer flickers to life as Mother begins to wake the crew. The only movement is a perpetual motion drinking bird toy, and a flutter of paper in a non-specific breeze. Yet Scott manages to convey a sense of communication by flicking between the screen, and the reflection of the screen on the emergency helmet. There is an eerie sense of artificial communication, in which humans have no part. ---> Indeed, it is an odd prolepsis of Ash and Mother's communication, as they are both artificially intelligent.<---

The crew speak and act as a crew would – their talk is of mundane matters such as bonus payments, idle banter and chit chat. There are clearly closer friendships and divides drawn early on. Parker clearly dislikes Ripley, for instance. Nevertheless, faced with a greater danger, these divides are cast down in a bid to work together. By simply drawing these allegiances and distances, we get a better sense of the unity against the alien in the latter scenes.

Perhaps the most purely visual film (Blade Runner has a great deal more story to it) Alien owes most of this to Giger. The gunner, the interior of the alien ship, and of course the alien itself are of such an intricate design, they are all totally believable. The organic nature of the ship extends the complex life cycle of the alien itself into an almost symbolically symbiotic-like relationship – a symbol of the actuality of the relationship between the face-hugger and the host body. It creates a fully-realised alien existence, and the entire visual feast goes towards maintaining believability within an unbelievable environment. The solidity with which we can view these events aids our emotional investment of the film, and thus increases our reaction to the brutal horror of the alien on those occasions where we snatch a glimpse of it. This is Scott's other significant decision. Where, say Jaws four years previously showed little of the shark for aesthetic reasons, Scott's (while being partly for that reason also) reason was to ratchet up the tension. By not seeing the alien fully, we fill in what we don't see with our worst nightmares, and as such, we create a monster more horrific than can be conceived on screen.

Summary
The acting is note perfect. From ---> Holm's android Ash, to <---Weaver's increasingly desparate Ripley, through Kotto and Stanton's repartee as co-workers Parker and Brett, and good friends, there is barely a foot put wrong. Goldsmith's score serves both as emotional underline, and shock-inducing dischords, last heard in films such as Planet of the Apes. Scott's visual finesse, seen raw yet with such promise in The Duellists here is almost at its peak. An astonishingly beautiful film, its savage beauty sums up the alien itself. This is one of the finest science-fiction films ever made, and certainly the greatest horror.

< Message edited by homersimpson_esq -- 29/1/2008 7:16:42 PM >

_____________________________



That deep-browed Homer ruled as his demesne.



Bristol Bad Film Club
A place where movie fans can come and behold some of the most awful films ever put to celluloid.