dj vivace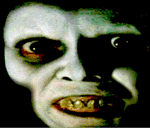 Posts: 5991
Joined: 28/7/2006
From: plymouth

quote:

ORIGINAL: DAVID GILLESPIE



quote:

ORIGINAL: dj vivace



quote:

ORIGINAL: BOHEMIANBOB




quote:

ORIGINAL: dj vivace

Blimey, seems to be a right battle going on here as to whether horror is still good or not. I for one think its still very relevant, and still a very strong genre. My main issue is the horror market is flooded, and a new genre quickly drowns in its own glories as people (usually the bloody Americans) jump on the bandwagen and churn out loads of the same types of film and kills the new and fresh ideas too quickly. I do hate remakes and sequels as it shows no originality, however, every now and then a gem comes out from that lot, and these are the ones we remember. The Hills Have Eyes remake, the Halloween remake (come on Hughes, give it your best shot mate ), hell the fucking Thing was a remake all those year ago.

But there is still life left in the ol' horror genre, and recent classics like Let the Right One In, (Rec) parts one and two, Paranormal Activity, Martys, Session 9, Ringu, Dabbe, Eden Lake, there are still some superb films being made. Horror will never die, it just gets lazy from time to time, but the classics do keep on coming and its the classics we remember, not the straight to dvd shit, in fact saying that, most horrors released in the cinemas are bloody awful. A true horror fan knows where to look for his taste, and having such a vast scope of different styles, everyone will have a different taste. Generally foreign films seem to be leading the way right now, although with Eden Lake, the Descent and 28 Days Later, we are still churning out some good-uns! I for one love the genre, and like Hughes, i tend to watch most horrors, and believe me i have written my share of reviews for some absolute stinkers on the Weird/ Strange thread, in fact, i just put two on there today!

Still, not even seven months into this year and already we've had House of the Devil, the Objective, Dread and i personally cannot wait for Alexandre Aja's Piranha remake!!!!



The Thing is a bloody classic!A rare case of improvement in a re-make.
I don't hold up much hope for the Piranha re-make.
Just on your core point-i too love horror,but i think it's lost its way over the past few years.
An example was the re-make of The Hills Have Eyes-where they dropped the horror for something banal.
Ringu was class,as are most Asian horrors-Asia seems to be the new Italy of the horror world.




I think the Piranha remake looks pretty good, and Alexandre Aja has proved he is a worth director with both Switchblade Romance and the Hills Have Eyes remake. I actually really rated his remake of Wes Cravens classic, see, i don't mind remakes that add that little something extra, and the way Aja ended it i thought was superb. Like with Zombies re-imagining of Halloween. What really gets to me, really fucks me off is when the Americans (usually) jump on something so quick, and remake it, scene for scene, in English just for the lazy twats who can't be bothered to read! (Rec) being one that seriously pissed me off, even tho Quarantine was actually not that bad, it was the fact it came so fast, and was a complete copy apart from one or two scenes. But then, i suppose, they can't win because they tried something slightly different when re-making Ringu, and that, funnily enough, just annoyed me! The only thing good about the remake was Naomi Watts because she is gorgeous!

I guess, as i said before, its all down to personal tatse and tolerance levels. Re-making Let the Right One In soo soon hasn't bothered me so much because Matt Reeves is in charge, and after his brilliant Cloverfield i have faith in him, and recent inteviews have also impressed me.

I think the problem nowadays is the number of genuine classics has drastically dropped, compared to say the 80's and most certainly the seventies, even the 90's had its fair share, whereas the noughties has thrown up some right corkers, some real gems both in terms of originality and brutality but just a smaller amount. I'm not talking about the shitty Hostel's and the like, i mean serious horror, like 28 Days Later, Martyrs, (Rec), Let the Right One In, Eden Lake, Sunshine, Paranormal Activity. If you want real examples of the amount of classics we're looking at, come on to the Weird/ Strange thread,oh its been list mania on there with top thirty, even top fifty lists of seventies, eighties, nineties and the noughties. It will make for some interesting reading, tho you may need a few weeks to get through all the pages

I must confess that if you had mentioned J-Horror a few years back, then i would totally agree, i think it had its day years ago. I still keep up to date with them and i must tell you what i have seen recently is utter shite. No more Ringu, the Eye, Pulse, Re-Cycle, Tale of Two Sisters or even Ju-on. Recent stuff like Ju-On Black Ghost/White Ghost and Phobia were an absolute embarrassment. I think, right now, its anybodies game to take over leading the way. The French were getting there with Martys, Switchblade Romance, even Frontiers was pretty good, and even tho not technically horror, Gaspar Noe finally unleashes Enter the Void this year which should give the French a good kick up the arse. The recent La Horde was laughable to say the least. Who knows who will take charge, but there are only so many ideas that you can use, so it was bound to get a bit stale over time. I like the current interest in sci-fi and horror again at the moment, what with the excellent Human Centipede, and Splice is released soon which has been getting some impressive reviews




I agree with you for the most part there mate, but I thought La Horde was entertaining enough if not inspiring.




Yeh, poor choice of words i think mate, "laughable" being too extreme a word, but i just wanted more you know. Knowing how great some French horrors have been, i felt it had sold itself out a bit to the Americanised way. You read my review so you know i didn't hate it. The problem is expectation you see, too much of it can often be a bad thing (oh, and thats not an invite to respond with one of your private pictures you keep stored on your computer for just such an occassion
)



_____________________________

you can't expect to wield supreme executive power just because some watery tart threw a sword at you!

See more of my reviews here under the name Matt Wavish :
Horror Cult Film Reviews