doctorolorinbats1975

Posts: 6772
Joined: 30/10/2005
From: Harrow

Gladiator was a phenomenon: grossing over $500 million worldwide, making a star of Russell Crowe and putting Ridley Scott back on the map, as well as winning five Oscars including Best Picture and revitalising the sword and sandals genre. Yet no film has come close to recapturing this film's magic.

Gladiator is a story about a search for a home: Maximus, betrayed by the Roman Empire, personified by an insidious Commodus (played by Joaquin Phoenix with suitable self-loathing and intensity), and now a father to a murdered son, husband to a murdered wife, and now wanders aimlessly as a gladiator before finding purpose once more as the gladiator that defied an empire.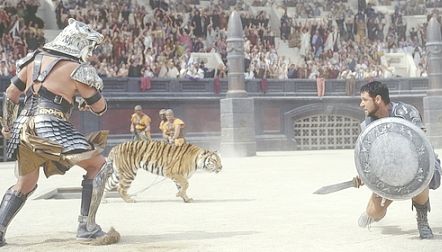 Gladiator explores classical themes like death and immortality, yet never comes across as bloated unlike some recent epics like Troy or Alexander, due to a strong story formed by Russell Crowe's amazing performance, with grit and charm. The same applies to Ridley Scott's direction and visuals, being the architect he is, never approaching the ancient peoples of Rome in a dry manner, but finds new meanings in those worlds long gone. He always manages to keep the Roman politics of a rebellion in the background, using a story to create a universe rather than the other way round.

Gladiator is a powerful, moving story, thrilling and violent with every sense of colour and sweep, with equal amounts of majesty and brutality that define the Roman Empire. Possibly the last hurrah for the genre, and if it is, then long may it be remembered.



< Message edited by doctorolorinbats1975 -- 26/3/2007 7:06:35 PM >

_____________________________

CG, stop motion, acting, animation, animatronics, whatever, it's 24 lies a second...

Critiquing words for dummies: Pretentious, overrated, sentimental, indulgent, populist.