dj vivace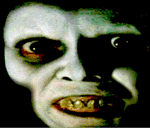 Posts: 5991
Joined: 28/7/2006
From: plymouth

quote:

ORIGINAL: markdavies



quote:

ORIGINAL: dj vivace



quote:

ORIGINAL: Cuchulainn

Yeah,The Exorcist III...

'You fucking bastard!!!',I recall shrieking when I saw this...My girlfriend started crying she got such a fright...That was great...




One of THE best horror films of all time!! There was a wonderful thread about this a while ago and was brilliant to see such love and respect for this film.

The Eye had 2 scenes that made me jump out of my seat, the bit where the woman is standing in the corridor of the hospital and a ghost whispers, then suddenly it whispers really loud right next to her. "SHIT!!!" i remember screaming, beer went everywhere! The other scene is in the psychiatrists office when another ghost appears and gently asks the once blind girl to move out of her seat, the ghost then screams at her and moves towards her very quickly. "SHIT!!!" i screamed again and there went the rest of my beer.

Bought a turkish film called Dabbe recently and lost count at the number of times i literally jumped off the couch





Couldn`t agree more. There are so many people who have not seen this film, because of the negative reviews at the time, but it holds up really well.

Also what about the scene in the lift in the original Dark Waters?

And the scene in the lift in The Eye?




Nah sorry mate, the lift scene never really did it for me. Dont know why. Hows about My Little Eye near the beginning when they go up to the loft and that bird comes at them, wasn't expecting that! And there's also a few nasty little scenes in Jacobs Ladder but i can't think of them at the mo



_____________________________

you can't expect to wield supreme executive power just because some watery tart threw a sword at you!

See more of my reviews here under the name Matt Wavish :
Horror Cult Film Reviews