evil bill

Posts: 6784
Joined: 19/7/2006
From: mordor/ uk

quote:

ORIGINAL: dj vivace

You know, i read more and more praise for Phenomena but the film just didn't do it forme on first watch. I guess its time i dug out my Argento boxset and watched it again, just to give it another chance


Give it another go mate i did.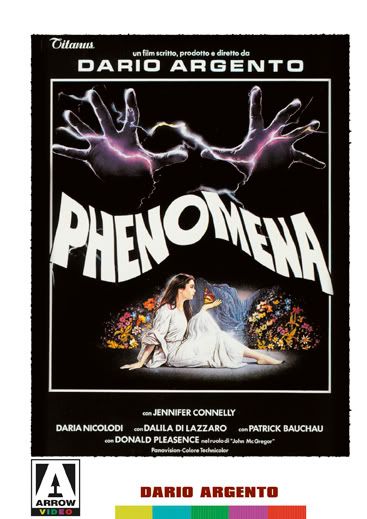 Phenomena 1985 Aka Creepers.
Teenager Jennifer Corvino(Jennifer Connelly), daughter of a famous actor, arrives in an expensive board school in Switzerland,and shares her room with the French schoolmate Sophie(Federica Mastroianni). Jennifer is a sleepwalker,and is capable of telepathically communicate with insects,and one night while hile sleepwalking, she meets and becomes a friend of a Scottish entomologist, Prof. John McGregor (Donald Pleasence), and his chimpanzee Tonga. Jennifer decides to help Dr. McGregor in the investigation of a serial killer,that is killing young girls in that area. When her friend Sophie disappears and Dr. McGregor is killed, the scared Jennifer decides to call her lawyer and return to Los Angeles. She is invited to stay in the house of Frau Brückner(Daria Nicolodi)waiting for her flight, but the serial killer is already closing in on her.

This is Jennifer Connelly's second film in a staring role,her first was Once Upon A Time In America,which Argento had seen and wanted her for the part.She only agreed after Dario hired a body double for the nude scenes,and a stunt double for scenes involving the chimp,and she got to use her own first name,as in the script the girl was called Martha.Now Argento says the movie is about the loss of innocence,which is why he wanted her,she was only 14 at the time,so once again Dario was pushing at the limits.Now the nude scenes that survived the cutting room floor are in fact a bit of a cheat as the girl is seen in see through robes,though still erotic enough to cause some outrage at the time.Also it has to be said that Connelly carries off her role very well,and helps lift the movie,in what was a very difficult role for any actress never mind a 14 year old.

.As far as the acting goes in this film,as already said Jennifer is excellent and for me carried the movie,yet Donald was also pretty good if a bit ham at times,and of course Daria was well up for her her part.The film score,well it's another fine Goblin piece of music,though there's Motorhead and Iron Maiden thrown in,which is ok but then it was the 80's so i'll forgive that.If your lucky enough to get the 111 minute version,your in for one hell of a gore fest,as it's easily one of Argento's most brutal bloodiest movies.

From the opening scene to the end,this is a dark,dark tale that never let's up on violence and gore,and of course as ever Argento make's it all look so erotic at times.Take the opening killing where we see a beautiful young Danish tourist played by Argento's eldest daughter Fiore,stranded in the middle of the Swiss countryside after missing her last bus back into town,and all filmed in board daylight in the beautiful Swiss countryside.She enters a house looking for help but after hearing some strange sounds she runs for her life,as a chained killer breaks loose and gives chase.Argento brilliantly cross-cutting between the traumatized tourist desperately asking for help, and the thick chains of an unseen foe slowly breaking away from the wall on which they've been bolted.The killer stabs and beheads her all in view of a beautiful water fall,yet we only see the flash of the blade,and all this in just a few opening minutes.Later we see a pool of rotting corpse's which are heroine falls into,while she to tries to escape a chained psycho,a totally bizarre scene that will make you flinch.There 's amazing scenes with insects,where we see are heroine speaking to them,again so bizarre,yet for it's time high art effects,there still was no CGI at hand,and the knife wedding chimp,has to be one of the most crazy ideas ever put to film,yet it's bloody scary.And what a blood soaked ending,that makes even some modern horror movies look tame,it's no surprise the Distributors got scared and cut 30 minutes from it
.
I think it is a far better film than the story would have you believe,and this is down to toning down his usually mind-bending visual style /colour schemes/cinema-scope compositions and atmospheric camera movements.Dario going for a much colder visual look, with soft blue hues and black and white costume designs captured by a camera that tends to observe from a distance.Yet the set piece killings are a true treat for ay horror fan,and this has plenty of them,though the story tkes some getting used to.All in maybe not a classic,but one hell of a horror fantasy movie,that is very daring in story and direction,and for me a creepy as hell nightmare of a movie.7/10

< Message edited by evil bill -- 18/4/2011 8:22:24 PM >

_____________________________

"You listen to me now,i will find you and i will kill you!"