dj vivace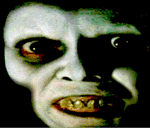 Posts: 5991
Joined: 28/7/2006
From: plymouth

quote:

ORIGINAL: Kira



quote:

ORIGINAL: dj vivace

Cool, thanx for the advice. I'll try and get that sorted.
Received Masters Of Horror series 1 vol 2 yesterday, finally!! Anyway, watched Takeshi Miike's 'Imprint' to see what all the fuss is about. Firstly, Billy Drago needs to go back to acting school, fucking awful!! Secondly its in english, which takes away the impact of Miike's style, and i don't want to think for one minute he would sell out and make a film in english to have more 'appeal' but thats the impression i get. Correct me if i'm wrong please.
Apart from my 2 gripes, it is actually pretty good, typical Miike. Its slow (even for a 1 hour film), it builds and your just not quite sure to what, it's full of very strange people and places. His directing and especially his use of colour is amazing, in fact the use of colour has to be seen to be believed, some of it is quite breathtaking! I won't say too much about the plot aprt from its about Billy Drago going to a small isalnd in search of his long lost 'prostitiute' love. Enough said the better. It does turn bitterly nasty (well what do you expect) and it truley deserves its 18 rating. It's good, however, it finishes leaving the viewer (well me and the missus) totally confused. So, if someone else has seen it, a little explanation would be greatly appreciated.




huh, in English? Well the rest sounds pretteh much like good ol' Miike though. But I guess the pure Japanese days are over. Soon we'll be able to see another Miike film in English. He is doing the first Japanese Western . And Tarantino has apparently a role in it.



quote:

While on the subject of weird horror ever see Andy Warhol's FRANKENSTEN,it's the weridest,wackout version you'll ever see.Just to give you a taste Baron Frankensten while creating his monster(which turns out to be gay) sticks his togger in the stonach of the monster where he's made an cut into the flesh,and relives himself?



OH.MY.GAWD.




Miike doing a western?!!!
My god!! I can't even begin to imagine what it will be like but i reckon it'll be like no other western ever made, and will probably make no sense. Now how about that, a confusing, head fuck western! Cool!!



_____________________________

you can't expect to wield supreme executive power just because some watery tart threw a sword at you!

See more of my reviews here under the name Matt Wavish :
Horror Cult Film Reviews