evil bill

Posts: 6784
Joined: 19/7/2006
From: mordor/ uk

quote:

ORIGINAL: losthighway

Do not fret The Birds remake was shelved about a year ago... apparently they couldn't get the script/concept to work so gave up. Thankfully!

Watched LIVID tonight. Not a patch on INSIDE, in fact it's a very different film... sort of a cross between a ghost story with vampires! It's OK and the directors have an eye for detail (it looks goregous!) but it just never really goes anywhere, the script is rather weak and it ends abruptly with one of those was it her, wasn't it her endings! I've wanted to see it for ages and i'm pleased I have but it's not one i'd necessarily revisit in a hurry. Overall: 3/5

Oh and I want this (like NOW!!! ):

Arrow Video has announced the DVD and Blu-ray release of Zombie Flesh Eaters for the 26th of November, priced at around £19.99 and £24.99 respectively. A Blu-ray Steelbook will also be available for £29.99. Details of bonus material can be found below, along with the artwork.

Brand new high definition restoration of the original negative

Optional English SDH subtitles on the feature

Audio commentary with screenwriter Elisa Briganti moderated by Calum Waddell

Audio commentary with Fulci biographer Stephen Thrower and horror expert Alan Jones

UK exclusive introduction to the film from Ian McCulloch

ALIENS, CANNIBALS AND ZOMBIES: A TRILOGY OF ITALIAN TERROR: Actor Ian McCulloch remembers his three classics of Latin horror lunacy - ZOMBIE FLESH EATERS, CONTAMINATION and ZOMBI HOLOCAUST

FROM ROMERO TO ROME: THE RISE AND FALL OF THE ITALIAN ZOMBIE FILM: Veteran Fulci screenwriters Dardano Sacchetti (THE BEYOND) and Antonio Tentori (CAT IN THE BRAIN), celebrated UK critic Kim Newman and filmmakers Luigi Cozzi (CONTAMINATION), Ruggero Deodato (CANNIBAL HOLOCAUST), Russ Streiner (NIGHT OF THE LIVING DEAD) plus many more share memories of the genesis of corpse-crunching cinema - from Romero's early templates to the gory glory days of Fulci and his many successors.

THE MEAT MUNCHING MOVIES OF GINO ROSSI: The special effects magician behind many Italian splatter classics talks about his most famous gore-drenched greats - and shows props from many plasma-packed masterworks - including ZOMBIE FLESH-EATERS, CITY OF THE LIVING DEAD, THE HOUSE BY THE CEMETERY, CANNIBAL FEROX, BURIAL GROUND and PIRANHA II.

ZOMBIE FLESH EATERS - FROM SCRIPT TO SCREEN: Dardano Sacchetti shows key pages from his original ISLAND OF THE LIVING DEAD screenplay.

Trailer and radio spots

Collector's booklet featuring contributions from Calum Waddell, Stephen Thrower, Craig Lapper and Jay Slater.

Reversible sleeve featuring original and newly commissioned artwork by Graham Humphreys

More to be announced closer to the time!

UPDATE: Just preordered steelbook on Amazon UK for £17!


AHHHHH!!!! you beat me to it,just going online now to order it,and David posted the artwork on the Fulci thread for this classic Zombi film
.
Disapointed to hear LIVID is nowhere as good as INSIDE,but your score tells me it's worth a watch.
Nice to hear THE BIRDS is sheleved for now????
By the way meant to ask you is the film your due to watch Argeto's PHENOMENA? or? the John Travolta film of the same name made in 1996.My guess is this:
PHENOMENA(aka Creepers) 1985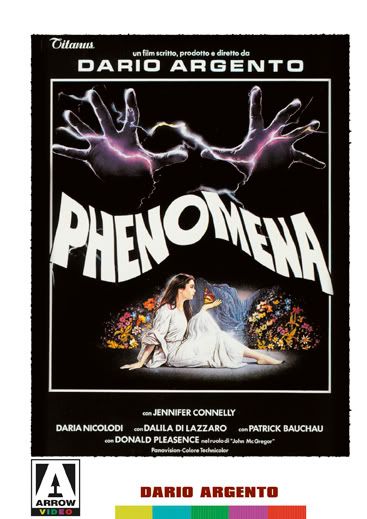 The story is about a teenager Jennifer Corvino(Jennifer Connelly), daughter of a famous actor, arrives in an expensive board school in Switzerland,and shares her room with the French schoolmate Sophie(Federica Mastroianni). Jennifer is a sleepwalker,and is capable of telepathically communicate with insects,and one night while hile sleepwalking, she meets and becomes a friend of a Scottish entomologist, Prof. John McGregor(Donald Pleasence), and his chimpanzee Tonga. Jennifer decides to help Dr. McGregor in the investigation of a serial killer,that is killing young girls in that area. When her friend Sophie disappears and Dr. McGregor is killed, the scared Jennifer decides to call her lawyer and return to Los Angeles. She is invited to stay in the house of Frau BrŁckner(Daria Nicolodi)waiting for her flight, but the serial killer is already closing in on her.



This is Jennifer Connelly's second film in a staring role,her first was Once Upon A Time In America,which Argento had seen and wanted her for the part.She only agreed after Dario hired a body double for the nude scenes,and a stunt double for scenes involving the chimp,and she got to use her own first name,as in the script the girl was called Martha.Now Argento says the movie is about the loss of innocence,which is why he wanted her,she was only 14 at the time,so once again Dario was pushing at the limits.Now the nude scenes that survived the cutting room floor are in fact a bit of a cheat as the girl is seen in see through robes,though still erotic enough to cause some outrage at the time.Also it has to be said that Connelly carries off her role very well,and helps lift the movie,in what was a very difficult role for any actress never mind a 14 year old.

This is the movie that scared the censors more than any other Argento film before, Phenomena 1985 or as it was also know as Creepers,where Dario mixes Gallio with the supernatural,again shows he just love's experimenting with his films.On release in it's cut form it was heavily criticized not just for the violence and eroticism,but for the plot,actors and soundtrack,in fact it took years for the full version to be released,and even then it got bad reviews.But to many miss the point this is a Fantasy/slasher movie, not a documentary, and it's not supposed to reflect reality.Dario treats his films as dreams/nightmares, and we all know that dreams are most often illogical, strange and wonderful and sometimes chilling.This is the only way to watch his film's,let the images take control and enjoy,and remember he aims his movies at adults,which is why they are very dark and violent.

As far as the acting goes in this film,as already said Jennifer is excellent and for me carried the movie,yet Donald was also pretty good if a bit ham at times,and of course Daria was well up for her part.As far as the score,well it's another fine Goblin piece of music,though there's Motorhead and Iron Maiden thrown in,which is ok but then it was the 80's.If your lucky enough to get the111 minute version,your in for one hell of a gore fest,as it's easily one of Argento's most brutal bloodiest movies.

From the opening scene to the end,this is a dark,dark tale that never let's up on violence and gore,and of course as ever Argento make's it all look so erotic at times.Take the opening killing where we see a beautiful young Danish tourist played by Argento's eldest daughter Fiore,stranded in the middle of the Swiss countryside after missing her last bus back into town,and all filmed in board daylight in the beautiful Swiss countryside.She enters a house looking for help but after hearing some strange sounds she runs for her life,as a chained killer breaks loose and gives chase.Argento brilliantly cross-cutting between the traumatized tourist desperately asking for help, and the thick chains of an unseen foe slowly breaking away from the wall on which they've been bolted.The killer stabs and beheads her all in view of a beautiful water fall,yet we only see the flash of the blade,and all this in just a few opening minutes.Later we see a pool of rotting corpse's which are heroine falls into,while she to tries to escape a chained psycho,a totally bizarre scene that will make you flinch.There 's amazing scenes with insects,where we see are heroine speaking to them,again so bizarre,yet for it's time high art effects,there still was no CGI at hand,and the knife wedding chimp,has to be one of the most crazy ideas ever put to film,yet it's bloody scary.And what a blood soaked ending,that makes even some modern horror movies look tame,it's no surprise the Distributors got scared.

I think it is a far better film than the story would have you believe,and this is down to toning down his usually mind-bending visual style /colour schemes/cinema-scope compositions and atmospheric camera movements.Dario going for a much colder visual look, with soft blue hues and black and white costume designs captured by a camera that tends to observe from a distance.All in maybe not a classic,but one hell of a horror fantasy movie,that is very daring in story and direction,and for me a creepy as hell nightmare of a movie.8/10





_____________________________

"You listen to me now,i will find you and i will kill you!"